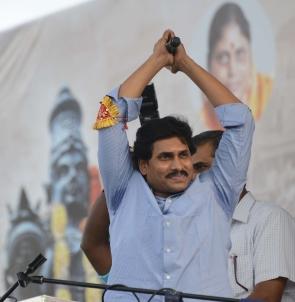 Lashing out at Congress President Sonia Gandhi for "playing with the lives of Telugu people" and "murdering democracy in broad daylight", YSR Congress chief Y S Jagan Mohan Reddy on Saturday called on Telugu people to give 30 Lok Sabha seats to his party in the forthcoming Lok Sabha elections to stop the division of Andhra Pradesh.
"Do you know the history of Andhra Pradesh? You are playing with the future of our children only to make your son the prime minister. Is it justified," Jagan said while referring to Sonia, at his first rally in Hyderabad after being released on bail in September.
He called upon the people to unite and thwart the politics of "divide and rule" and "votes and seats".
"This is a fight between Delhi's arrogance and the Telugu people's self-respect," the Kadapa Member of Parliament said.
"Let us win 30 Lok Sabha seats. We will then see who will and who can divide Andhra Pradesh. If we win 30 seats, we can make someone who will keep AP united the prime minister," he said.
Jagan also exhorted the national political parties to stop the state's bifurcation.
"If you remain silent now, a similar thing may happen in your state in the future. It could be West Bengal, Tamil Nadu, Odisha, Karnataka and even Punjab. I don't know if (Prime Minister) Manmohan Singh will accept the division of Punjab," he said.
Jagan also came down heavily on Governor E S L Narasimhan and Chief Minister N Kiran Kumar Reddy for "backstabbing the state".
"We repeatedly appealed to both of them to convene a special session of the assembly to pass a resolution against the proposed bifurcation. If the resolution is passed, Delhi will be forced to backtrack. But our pleas fell on deaf ears," he said.
Image: Jagan Mohan Reddy at the YSR Congress rally in Hyderabad ' Photograph: SnapsIndia