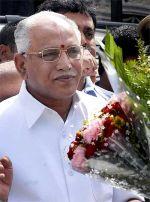 Former Chief Minister of Karnataka B S Yeddyurappa has said that he will not accept the post of party president even if it was offered to him. There were voices of dissent from the Yeddyurappa camp since the past couple of days. He had also stepped up the demand to be made the state party chief.
Yeddyurappa has been stating that it was wrong on the part of BJP leader K S Eshwarappa to hold two posts -- deputy chief minister and state party president -- and he ought to give up at least one.
Yeddyurappa told reporters in Bangalore that he did not want to build any pressure on the party to make him the president. "I want to remain a party worker and what the media has been saying about my wish to become the president is wrong. Even if the party offers me the post I will not accept it. I am in no hurry and will wait until December and take a decision, Yeddyurappa said.
About attending the national executive meeting of the party, he said that he has not taken any decision about the same. "I will think about it," Yeddyurappa added.
Yeddyurappa, who was forced to quit as the chief minister after his name had figured in the mining scam, had made D Sadananda Gowda the chief minister. However, a year later he fell out with Gowda and got him replaced with Jagadish Shettar.
Upset at being neglected by the top brass after his ouster as chief minister, Karnataka BJP strongman B S Yeddyurappa dropped clear hints of leaving the party, saying he was facing a 'suffocating environment' in it.
"I am facing a suffocating environment in the party. I am waiting for an opportune time to decide my future. I will take a decision on completing my ongoing second leg of tour in parts of the state by December end," he told reporters.
Yeddyurappa, who is unlikely to attend the BJP National Executive at Haryana from December 27, said he would take a decision on his future plans in December.
He defended the delay in announcing a decision on his political future, saying any decision at this stage would rock the government headed by Jagadish Shettar, whom he installed as chief minister.
Yeddyurappa said he does not aspire for any position in the party or that of state unit president. "I have asked my supporters not to lobby with the high command for any position for me. I will not accept the state unit party post, even if the party offers it to me," he said.
"If at all I have to become Chief Minister again, I will become with the blessings of the people," said Yeddyurappa.
"In fact after I quit, I have been working as a ruling party member and also as opposition party member. It is my hard stand that ensured waiver of Rs 3,200 crore loans to farmers. It is on my call the KSRTC strike ended and the government found a solution to the garbage problem in the city," Yeddyurappa, who announced plans to tour 50 constituencies in the coming days, said.
He reminded party bosses of his efforts in the last 40 years to build BJP in the state from a strength of two MLAs to 121 and said he had played a pivotal role in installing the first-ever saffron party government in the South.
He took a jibe at Deputy Chief Minister K S Eswarappa, who is also continuing as state unit party chief, saying he has the onus to bring back the party to power. "He should quit the ministry and devote his energy to strengthening the party."
On the Cauvery issue, he slammed Prime Minister Manmohan Singh for directing Karnataka at the Cauvery River Water Authority meet in Delhi to release 9,000 cusecs to Tamil Nadu.
He alleged that Singh had done so to please Tamil Nadu Chief Minister Jayalalithaa to save his 'minority government' by securing All India Anna Dravida Munnetra Kazhagam 's support.
With inputs from PTI