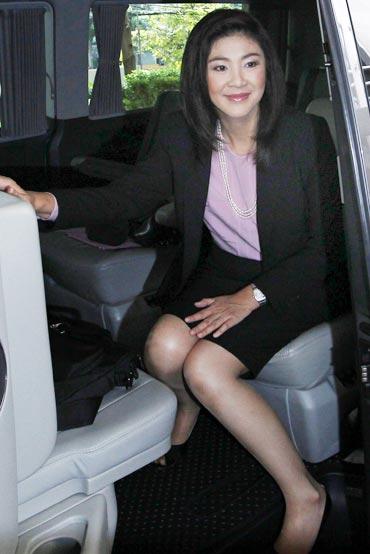 Thailand's embattled Prime Minister Yingluck Shinawatra on Monday rejected opposition's two-day ultimatum to quit, saying she is willing to do "anything" to end spiralling violence but cannot accept the unconstitutional demand to hand over power to an unelected council.
Police fired tear gas cannisters and smoke bombs at hundreds of anti-government protesters as they tried to force their way into the Government House and the Metropolitan Police Bureau for a second day today, in their bid to topple Yingluck.
"I will not pose a condition. If I am able to do anything to return peace, I'll be willing to do it but it must done under the provision of the Constitution," she told reporters.

"Please understand me. I don't know which law under the constitution's framework I should invoke to implement the call (of people's council)," Yingluck said.

Anti-government demonstrators have been demanding Yingluck to step down, with protest leader and former opposition Democrat Party MP Suthep Thaugsuban, saying late last night that Yingluck should resign within the next "two days".
He gave the ultimatum to Yingluck at a meeting held on Sunday in the presence of army, navy and air force commanders.
Yingluck said the call by anti-government protest leader Suthep, to return the ruling mandate and set up a people's council was impossible under the Constitution.
"I don't know how to implement Suthep's call under the law. I affirm that I have opened all channels to try to find common solutions. I am open to talks all the time," Yingluck said.

"I would like everybody to join in finding a solution but I can't find one under the legal framework and the constitution," she said.
The protesters want to replace the government with an unelected "People's Council", alleging Yingluck's government is controlled by her brother, ousted leader Thaksin Shinawatra.
Thaksin, was ousted in a military coup in 2006 that left the country bitterly divided.
The protesters allege that Thaksin runs the government from overseas exile and accuse the current administration of using populist policies that are hurting Thailand's economy to remain in power.

Four people have died and more than 100 injured in the anti-government protests in Thailand's worst political turmoil since the 2010 rallies that ended in violence.

As police fired tear gas cannisters and smoke bombs, protesters were seen dispersing and covering their faces. After pouring water on themselves, many of them returned to the front line.

Many protesters wore raincoats and plastic bags over their heads, to protect themselves against the sting of tear gas.
Deputy Police Commissioner General Pol Gen Worapong Chiewpreecha threatened to arm police with batons if protesters forced their way to pass through the barriers to reach the officers.
He said protesters have passed through two lines of barriers and police might have to strike back.

"We may have to use baton to hit at spots, which are not dangerous, if the protesters break through the lines," he said.
Meanwhile, Yingluck assigned Deputy Prime Minister and Foreign Minister Surapong Tovichakchaikul to be in charge of the Centre for the Administration of Peace and Order (CAPO) Surapong has taken over the supervision of CAPO from Pracha Promnok.
CAPO has been assigned to handle the ongoing protests by various anti-government groups under the People's Democratic Reform Committee (PDRC) led by former Democrat MP Suthep.

Surapong said the protests had affected the overall economy and the image of Thailand and pledged to bring the situation in the country back to normal as soon as possible.

Anti-government protesters also threatened to spray faeces at police who used tear gas to prevent them from occupying government offices, the Bangkok Post reported.

Chumpol Jullasai, a core member of the anti-government group, told the protesters to mobilise to occupy Government House and the Metropolitan Police Bureau.
"We'll use a biological weapon to counter police who use tear-gas on us," he said.
Yingluck has said that she would not authorise the use of force against protesters.
"The military has positioned itself as neutral and it wants to see a peaceful way out," she said in today's address.

Military commanders had agreed to deploy troops to support the police on condition they would carry no weapons and would stand behind riot police ringing the main government offices, BBC reported
Yingluck's government, which has broad support outside the capital, took office after winning elections in 2011.
Her government, which has broad support outside the capital, took office after winning elections in 2011

Thirty four countries have issued advice to their citizens planning to travel to Thailand, according to the Tourism Authority of Thailand.
The Indian Embassy in Bangkok has issued a notice advising Indian tourists and residents to regularly monitor the situation through local media, their hotels, tour operators etc.
It urged them to take usual precautions for personal safety and told them to avoid areas where protests were taking place.
The US Embassy in Bangkok has warned its nationals to avoid areas of rallies and exercise caution if in the areas of large gatherings or demonstrations.
The protesters are mostly middle-class people living in Bangkok and supporters of the opposition Democrat Party.

The opposition sees the Yingluck government as a proxy for her brother Thaksin, who is on a self-imposed exile in Dubai.
He was deposed in a 2006 military coup but is in regular touch with Yingluck who is his younger sister. The protesters, who call themselves the People's Democratic Reform Committee, want the Shinawatras out.

Thaksin has been charged with corruption.

Most Thai Universities and schools remained closed on Monday. However, several international school were open.

Bangkok is not new to protests or instability. After the 2006 coup, Anti-Thaksin supporters in 2008 occupied Bangkok's two airports for a week after taking over the prime minister's office for three months, and in 2010 pro-Thaksin protesters occupied downtown Bangkok for weeks resulting in violence and deaths.
Thailand depends a lot on tourism and the paradise is slowly beginning to see the adverse impact the protests are having on arrivals.
December is a peak tourist season but many foreign tourists are not sure if they should make the trip.