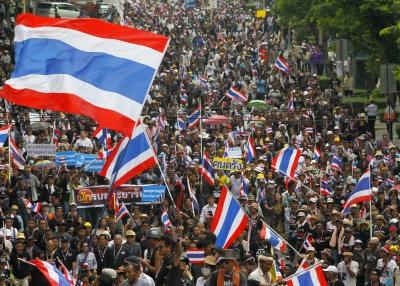 Defiant Thai protesters on Friday stormed the army headquarters, asking the military to back their six-day-old campaign aimed at toppling Prime Minister Yingluck Shinawatra even as she ruled out early elections.
Over 1,500 protesters entered the compound and submitted a letter addressed to the army chief, asking military leaders to "take a stand" in Thailand's spiralling political crisis.
More protesters besieged the ruling Pheu Thai party's headquarters as part of efforts to force Yingluck to step down, shouting "Get out, get out".
The demonstrators left both the places after a few hours. Security was tightened around the party's headquarters. Ruling out a fresh poll, Yingluck told BBC she was not sure the protesters would be satisfied even if she called an election.
"I love this country. I devote myself to this country. I need only one thing for the country: we need to protect democracy," she said.
She said the situation in Thailand was "very sensitive" and repeated her call for negotiations to resolve the crisis. For the past week, thousands of anti-government protesters have marched in Bangkok in a bid to unseat Yingluck, whom they accuse of serving as a proxy for her fugitive brother and former premier Thaksin Shinwatra.
The demonstrations have raised fears of fresh political turmoil and instability in Thailand and pose the biggest threat to Yingluck's regime since she came to power in 2011.
Amid the growing unrest, Yingluck said she would not authorise the use of force against protesters occupying government buildings.
Meanwhile, former premier and opposition leader Abhisit Vejjajiva said he would lead the protesters if rally leader Suthep Thaugsuban is arrested.
He said Thaugsuban has raised public awareness about doing the right thing for Thailand and this wouldn't change even if he was no longer able to lead the protests.