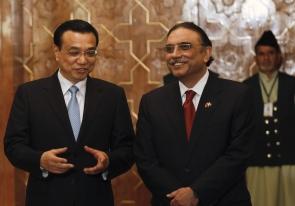 Chinese Premier Li Keqiang on Thursday assured Pakistan of "every support and assistance" to boost bilateral cooperation in key areas of business, trade, energy and infrastructure to cement their "all-weather" ties.
"China will give you every support and assistance and by helping you, we have to help ourselves," Li said while addressing a special session of the Senate or Upper House of Pakistan's Parliament.
Pakistan's support is vital for China's development, he said, adding that both the countries should stand shoulder-to-shoulder as friends and brothers with "pragmatic cooperation".
Li, in his maiden visit to Pakistan as Chinese premier, said China will extend further cooperation in all sectors, especially in the fields of strategic relations, energy, science and technology and agriculture.
"To be friends forever is the cherished desire of both nations," he said, describing the friendship as the outcome of centuries-old people-to-people contacts.
Highlighting priorities for taking both countries towards development and progress, Li said they would have to speed up the development of the Karakorum Highway and its use for trade activities. "We are ready to work with Pakistan to speed up the project of upgrading the Karakoram Highway, actively explore and develop the long-term plans of building a China-Pakistan economic corridor, expanding our shared interests," he said.
Launching social and financial projects and cooperation in energy and agriculture would also boost bilateral ties, he said.
Li, 57, recalled his first visit to Pakistan 27 years ago as a youth leader and said that through his interaction with people, he had learnt that both sides cherished their friendship. Referring to Pakistan's geo-political significance, Li said the country was involved in maintaining regional stability and global peace. He said support and cooperation were vital for the mutual benefit of both countries.
In his welcome address, Senate Chairman Nayyer Hussain Bokhari called for greater connectivity between Pakistan and China for enhancing economic cooperation. "We should concentrate on enhancing economic cooperation through greater connectivity. We must continuously expand and deepen cooperation in all areas of mutual interest," Bokhari said.
"We regard any threat to China's sovereignty as a threat to Pakistan's sovereignty. And we are grateful for China's principled and steadfast support for Pakistan's sovereignty, territorial integrity and economic development," he said.
Speakers of national and provincial assemblies, governors, caretaker Chief Ministers, members of the federal caretaker cabinet, senior government officials and diplomats attended the session.
On Wednesday, Pakistan and China inked several agreements and memoranda of understanding, including a pact on a system to manage the border between Xinjiang autonomous region and Gilgit-Baltistan area.
Others agreements covered an economic corridor plan, maritime cooperation and satellite navigation.
Li is on a two-day visit to Pakistan on the invitation of Zardari.

Image: Chinese Premier Li Keqiang talks with Pakistan's President Asif Ali Zardari during an agreement ceremony at President House in Islamabad | Photograph: Mian Khursheed/Reuters