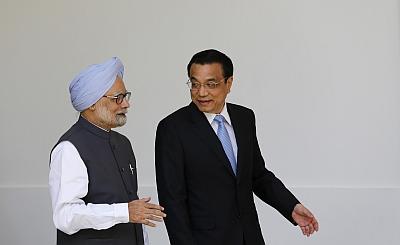 Chinese Premier Li Keqiang pledged on Monday to build trust with India and declared that ties between the Asian giants were key to world peace as he visited New Delhi only weeks after a standoff in Ladakh. Speaking alongside his counterpart Manmohan Singh, Li said China wanted to increase cooperation with India, saying his choice of destination for his first foreign visit showed the importance that Beijing attached to ties with Delhi.

A total of eight agreements have been signed between India and China including those on trade, water resources, food, travel.

The media meet began at Hyderabad House in New Delhi with Dr Singh and Li the podium. The external affairs ministers of both the countries exchanged signed documents.

Dr Singh said that he had a candid discussion with Premier Li. "I thank Li for coming to India after becoming premier. India and China have had difference over the last 25, but have built bridges and maintained peace and tranquility over the years. There are many areas of convergence between the two countries and the ties between the two countries are important. We both need to ensure cooperation for regional growth and stability."
"While seeking early resolution of the border, peace must be preserved," he added.

The PM said that there was need to share more information on trans-border rivers. "Both the countries will try to work with Myanmar and other south-east Asian countries. We have reached strategic consensus and trust on most issues."

Talking over from Dr Singh, Li said, "We cannot deny that there are problems between China and India. But India and China remain strategic partners and good friends. The boundary issue is a remnant of history."

"We have far more shared interests than differences. But we remain friendly neighbours and won't do anything to jeopardise each others interests."

The Chinese premier emphasised that both the countries needed to improve border management. "Both sides believe, with regard to boundary question, the sides have developed principles to settling the question. We've worked to maintaining tranquility and peace in the border areas. We need to improve various border-related mechanisms put into place and make them more efficient," Li said.
"Without a common development of India and China the world and Asia won't grow. India is my first overseas stop after I became PM," he added.

"I have my own good sentiments towards India -- 27 years ago, I spent a week in this country and the seeds of friendship were shown."
"Facing the future, we see potential for common developments. Hope the seeds we sow today in spring will be harvested in autumn. Look forward to PM Manmohan's visit later this year so that we can harvest fruits of our cooperation. I want to thank the press for your hard work," the Chinese premier concluded.

Image: Chinese Premier Li Keqiang and Prime Minister Manmohan Singh interact ahead of their meeting at Hyderabad House in New Delhi | Photograph: Adnan Abidi/Reuters