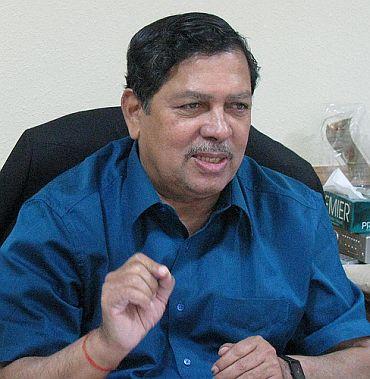 Vicky Nanjappa speaks to Justice Santhosh Hegde, one of the members of the drafting panel of the Jan Lokpal Bill, who feels that it is unfortunate that Aam Admi party convener Arvind Kejriwal and his team are opposing the bill so much.
It is unfortunate that they are opposing the Lokpal bill to be passed in Parliament. Let the bill come through first and then we can ask for amendments. This opposition is not required at this stage and we are only playing into the hands of several lawmakers who need one opportunity to stall it," Hegde says.
"I don't understand why Arvind Kejriwal and his team are so stuck. They should wait for the bill to be passed and then seek changes. The objective now is to ensure that the bill is passed in Parliament," he adds.
"On a personal note I would say that the bill in its present form is certainly not the best of enactments. It needs a lot of changes. However, this is an issue that has been on debate since 1964, and so we must look at the positive side. The Lokpal bill, if passed in Parliament, is a good sign. Let the institution of Lokpal be started and as it functions, let us see the shortcomings and then seek the necessary amendments. Agitation at this moment is not the answer," he explains.
"I feel that the Central Bureau of Investigation should have been an autonomous body. However, Parliament does not think that is right. Let's accept Parliament's view. However, I feel they should keep the CBI under the Lokpal at least for cases filed before it (the Lokpal). I understand that the CBI has other work too as an investigating agency, but it should be made available for the duties of the Lokpal too. The probes conducted by the CBI for the Lokpal should be under the supervision of the Lokpal," he adds.
"When we drafted the Jan Lokpal Bill, the lawmakers had told us clearly we could make suggestions but not dictate terms to Parliament. We did make our suggestions and the government has come up with a bill. Let us accept it for the time being and see how the institution would function. However, it is very important the person handling the Lokpal is good. There is no use if the Lokpal himself is not up to the mark because in such a case, even strong laws would make no sense," he asserts.
"If the Lokpal functions effectively to the liking of the public, then all of us can ask for more power and I am sure that the government would accept it," he says.
"A suggestion made in 1964 appears to be taking shape and we should not unnecessarily oppose because we should realise that we cannot wait any more. This is probably the best time to pass such a Bill since corruption is at its very peak today," he adds.