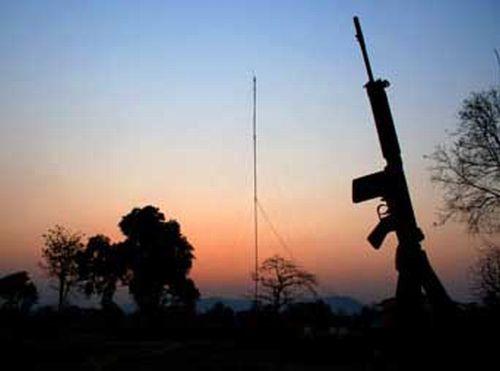 Maoist menace is slowly spreading to south of the Vindhyas, reports Vicky Nanjappa.
An internal communication of the Union home ministry states that the Naxal movement is fast spreading to the southern states, and if immediate action is not taken it could blow up into a full-fledged menace.
The communication states that the Communist Party of India-Maoist is expanding its base in the Western Ghats with the focus on Kerala-Tamil Nadu and Karnataka. It adds that the largest presence of Naxals in south is found in the areas of Malappuram, Wayanad and Kannur in Kerala and Mysore, Kodagu, Udupi, Chikmagalur and Shimoga in Karnataka.
Investigations show that the strongest Naxal base is in Tamil Nadu. The Naxals have already allied with the Tamil nationalists, sympathisers of the Liberation Tigers of Tamil Eelam and some supporters of slain sandalwood bandit Veerappan in order to further their cause.
The report suggests that the Naxals had taken the help of some LTTE sympathisers to conduct a training camp at the Dandakaranya forest in Andhra Pradesh.
The Naxals are also setting up bases at the Nallamalla, Tirumala hills and the Satyamangalam forests, since these areas are interlinked between Karnataka, Tamil Nadu and Andhra Pradesh.
In Kerala, the Naxals have not yet launched an extensive operation. They are however in contact with the tea and rubber plantation workers and their unions. They may launch operations with these unions, but the home ministry feels that this would take at least another three years.
"They want to focus more on the other states of the South before they make their entry into Kerala in a big way," an intelligence source says.
In Karnataka, they have already established contact with plantation workers. In addition, there is also a great deal of focus on the areas in which Veerappan used to operate, the report states.
But the Naxals face problems as well in the three southern states. Karnataka and Andhra Pradesh have already faced the Maoist menace and have been vigilant in tackling it. Hence the Naxals' functioning, the possible movement areas are all too well known to the agencies.
In Tamil Nadu, a strict directive to crack down on any such movement is already in place. This state was in fact responsible for the encounter killing of Veerappan, who had been a huge menace for a number of years.
However, the worry is that the Naxals may not operate under their own banner.
"They are showing a great deal of patience and are prepared to wait. They have been scouting targets and trying to change the mindset of the workers in these states," says an official.
However, the problem is that there are 128 organisations who share the same ideology, and many of them are not on the radar.
"These outfits who subscribe to the view of the Naxals do not necessarily carry out attacks, but could play a huge role in influencing the mindset of the poor workers," says the official.