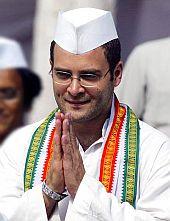 Key United Progressive Alliance ally Nationalist Congress Party on Tuesday apparently took a dig at Rahul Gandhi's elevation in the Congress, saying the party had appointed a vice president whenever it faced serious problems.
"Whenever a vice president was appointed there were serious problems within the Congress party," NCP General Secretary D P Tripathi told media persons in New Delhi.
At the same time, Tripathi said he had nothing against Rahul, who was appointed as the Congress vice president at the Jaipur conclave.
"I am merely drawing your attention to the history of appointment of vice president. Whenever the vices of presidency began, there was appointment of vice president in the Congress party," he said.
Arjun Singh and Jitendra Prasada were appointed Vice Presidents by the then Congress chiefs Rajiv Gandhi and Sitaram Kesri respectively, Tripathi said.
To questions of prime ministerial candidate in the 2014 elections, the NCP leader said, "If Dr Manmohan Singh is there obviously he is the prime ministerial candidate. If he is there, he is there."
He said it was for the Congress party to decide if they want somebody else as the Parliamentary party leader.
"Congress is the leading party of the UPA. But as of now, we are working under Prime Minister Manmohan Singh and we are happily working under him," he said.
On the possibility of Rahul's projection as the prime ministerial candidate, Tripathi said Congress was the biggest party of the alliance and it will decide on its leader. "If a youth is a leader then it is good," he said.