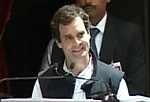 Rahul Gandhi made his first speech as Congress vice-president at the Chintan Shivir in Jaipur [ Images ] on Sunday.
He hit an emotional stride as he spoke about his grandmother Indira Gandhi's [ Images ] assassination, how he saw his father Rajiv Gandhi [ Images ] cry for the first time, and how his mother Sonia Gandhi [ Images ] had come to his room on Saturday night and wept.
Rahul promised deep, effective change as he spoke in both English and Hindi.
The full text of Rahul Gandhi's speech.