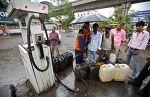 The Bharatiya Janata Party, Communist Party of India-Marxist, Communist Party of India, Samajwadi Party, Shiromani Akali Dal have decided to join forces to oppose the government's move to hike the diesel prices every month for the next one year and also increase the price of gas cylinders by Rs 50 to cut down the cost of subsidy.

Vijender Gupta, head of the BJP's Delhi unit, will lead a demonstration in East Delhi on Friday afternoon.

Former BJP president Rajnath Singh told rediff.com that partial deregulation of diesel prices is a glaring example of the UPA government's insensitive approach toward the common man. "It (the government) has permitted oil companies to go for Rs 9.60 per litre hike in the coming months, which will further stoke inflationary expectations in the economy," he said.

He criticised the UPA alleging that it had no oil pricing policy to work with and resorted to knee jerk reactions whenever there was a price movement in the international

market.

"Our nation needs a broad-based, people-friendly oil pricing policy that does not push inflation higher. It should give relief to the farmers who use diesel in many agricultural activities. This proposed -- nearly 10 rupee hike -- will be a massive blow to the farmers," Singh said.

"The government needs to review its existing oil pricing policy and the decision for partial deregulation should be reversed," he added.

"First this government decontrolled prices of petrol and you know how the petrol prices have skyrocketed. We are not going to accept a similar move to deregulate prices of diesel. It would have a direct impact on farmers who cultivate land and are hard-pressed to sell their produce at a higher cost. We will fight it tooth and nail," CPI leader D Raja said.

Rajender Chaudhary of Samajwadi Party said that his party was planning to hold a sit-in all over the country, particularly in Uttar Pradesh where the party has its own government. "It is an anti-people move. UP farmers will have a hard time if the diesel prices are controlled by oil companies," Chaudhary said.