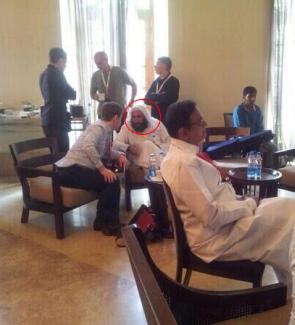 Here's the latest shocker from the United Progressive Alliance government! Finance Minister P Chidambaram was spotted alongside Taliban founder Mullah Abdul Salam Zaeef.
Zaeef was in Goa last week to delivered a lecture, where even Chidambram was invited as a speaker.
The Taliban leader was granted visa following suggestions of intelligence agencies which apparently told the home ministry the challenges India may face in Afghanistan after withdrawal of international forces.
Sources said Zaeef was granted visa following detailed deliberations in the home ministry during which intelligence agencies strongly backed the move arguing that India may have to deal with the Taliban when the United States and North Atlantic Treaty Organisation forces leave Afghanistan next year.
Bharatiya Janata Party spokesperson Nirmala Sitharaman, who tweeted the picture (left, external link), wrote on the micro-blogging website, "At the Thinkfest in Goa: Terror within arms distance? Or with visa given, a welcome guest?
Zaeef, a confident of Mullah Omar who had headed the Taliban government in Afghanistan till 2001 before the US invasion, attended the Think Fest in Goa in last weekend.
Pakistan's intelligence agency Inter-Services Intelligence's continuous influence over the Taliban might have forced the Indian intelligence agencies to recalibrate approach towards the terror group.
The decision was a complete U-turn of the home ministry's stated tough position against global terrorist outfit and stringent background check done while granting visa to nationals of Pakistan, Afghanistan, China and a few other countries, sources said.


Image: Finance Minister P Chidambaram is seen in the same room as Taliban's Mullah Abdul Salam Zaeef in this picture tweeted by BJP spokesperson Nirmala Sitharaman