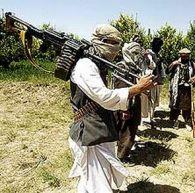 Mullah Fazlullah, the militant commander who ordered the assassination of teenage activist Malala Yusufzai, was today named by the Pakistani Taliban as its new chief to replace Hakimullah Mehsud, killed in a US drone strike last week.
The outlawed Tehrik-e-Taliban Pakistan elected Fazlullah as its new chief, commander Asmatullah Shaheen was quoted as saying by Pakistani news channels. The move came almost a week after Mehsud was killed in the drone attack in North Waziristan on Friday.
Fazlullah, nicknamed "Mullah Radio" for his fiery sermons on an illegal FM station, led a parallel administration in the northwestern Swat Vally till the Pakistan Army sent troops into the region to flush out militants in early 2009.
He fled with hundreds of his fighters to Afghanistan, from where he ordered the attempt on the life of Malala Yusufzai. The teenager survived despite being shot in the head by a Taliban fighter and was taken to Britain for treatment.
Fazlullah came to prominence as a leader of the Tehrik-e-Nifaz-e-Shariah-e-Mohammadi and later became the head of the Taliban in SwatValley, located 160 km from Islamabad.
He led a brutal rule in the region during 2007-09 and was accused of personally ordering the killing of scores of people, including women. He often announced his fatwas and orders for executing people on his radio broadcasts.
The Taliban Shura or council had initially agreed on Khan Syed alias Sajna as the new chief during a meeting in South Waziristan but later withheld the decision due to opposition from commanders belonging to Nuristan.
The Taliban then named Shehryar Mehsud and Asmatullah Shaheen as caretaker chiefs before Fazlullah was named the new head of the TTP.