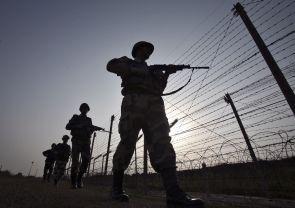 Hours after the Bharatiya Janata Party questioned the government on foreign policy and asserted that New Delhi must not resume talks with Islamabad, External Affairs Minister Salman Khurshid on Tuesday assured that appropriate steps will be taken in the matter concerning the killing of five Indian soldiers by Pakistani troops along the Line of Control in Jammu and Kashmir's Poonch District.
"The Parliament has discussed. The defence minister has made a statement. We will take appropriate steps. No one should think we are weak, but at the same time we are in the government and have a responsibility,' said Khurshid. "Sadly, the opposition does not understand. We know our national interests and responsibilities," he added.
Senior BJP leader Yashwant Sinha earlier in the day asked the government to clarify its position. "The government should clarify -- is the Congress with Pakistan or India?" he asked. Leader of Opposition in Rajya Sabha, Jaitley, said the Indian Government must give a "befitting reply" to Pakistan, warning that it should never lower its guard against the neighbour.
"We cannot make a spectacle of ourselves in the world that we are the willing recipients of such attacks," he said. Defence Minister A K Antony earlier in the day strongly condemned Pakistan's firing on the Indian side of the Line of Control in the Poonch sector of Jammu and Kashmir
"We strongly condemn this unprovoked incident. The Government of India has lodged strong protest with the Government of Pakistan through diplomatic channels. I assure the House that our Army is fully ready to take all necessary steps to uphold the sanctity of the LoC," Antony said in a suo moto statement in the Lok Sabha and Rajya Sabha on Monday night's ambush incident on the LOC.
"The Government of India conveys its condolences to the families of the martyrs who made the supreme sacrifice in the line of duty," he added. Antony informed that a patrol of the Indian Army comprising of one Non Commissioned Officer and five other ranks was ambushed on our side of Line of Control in Poonch Sector of Jammu and Kashmir early Tuesday morning.
"In the ensuing firefight, five Indian soldiers were martyred and one soldier was injured. The ambush was carried out by approximately 20 heavily armed terrorists along with person dressed in Pakistan Army uniforms," he said. The defence minister informed that the numbers of infiltration attempts have doubled this year in comparison to the corresponding period (January 1- August 5) of 2012.
"There has also been 57 cease fire violations this year, which is 80 percent more than the violations last year during the same corresponding period. The Indian Army successfully eliminated 19 hardcore terrorists in the recent months of July and August along the Line of Control and in the hinterland in Jammu and Kashmir," said Antony.
"The effective counter infiltration grid on the Line of Control has ensured that 17 infiltration bids were foiled this year," he added.