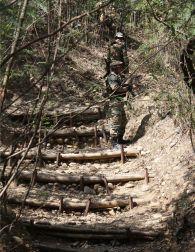 Closing ranks, Political parties bristled with outrage over the killing of five Indian soldiers by Pakistan with Congress President Sonia Gandhi declaring that India could not be cowed down by such "blatant acts of deceit".
As the attack by the Pakistani attackers along the Line of Control in Poonch district sparked anger both inside and outside Parliament, Union Minister and National Conference leader Farooq Abdullah said it will affect the normalisation of ties between the two nations.
The Bharatiya Janata Party accused the United Progressive Alliance government of failure and demanded a response in the "same language" which Pakistan understands.
"It is a total failure of the government. Government should respond to Pakistan in the same language which Pakistan understands," BJP spokesperson Shahnawaj Hussain said.
Giving vent to Congress' anger over "deceitful" killing of the five Indian soldiers by Pakistan, Sonia and Rahul Gandhi demanded "appropriate" measures "at the highest level".
"Indian nation could not be cowed down by such blatant acts of deceit," Sonia said and urged the Government of India to take up appropriate measures.
Rahul, Congress vice-president, urged the government for "steps" to be taken "at the highest level", party spokesperson Bhakta Charan Das told reporters.
BJP spokesperson Ravi Shankar Prasad asked how many more brave Indian soldiers needed to be sacrificed.
"It will affect the normalisation of relationship. People of India will not want that our soldiers keep on dying and we keep on talking about friendship...Both cannot go on at the same time," Farooq Abdullah said.
Jammu and Kashmir Chief Minister Omar Abdullah said these incidents don't help efforts to normalise or even improve relations with Pakistan and call into question Pakistan's government's recent overtures.
Das rejected BJP's criticism of "weak" handling of the issue by the government.
"BJP should not forget even before Kargil war happened. What was the compulsion," Das said in a veiled reference to then NDA Prime Minister Atal Bihari Vajpayee's goodwill visit to Pakistan before the Kargil war.
Das, however, refused to comment on questions on whether after this incident, India will cancel its likely meeting with Pakistani Prime Minister Nawaj Sharif at United Nations in September.
BJP leader Yashwant Sinha said his party was of the view that any talks with Pakistan should not be at the prime ministerial level in the wake of the attack.
Told that Pakistan has denied its troops' involvement in the attack, Das said, "Truth will unveil. Truth will come out automatically. They cannot go on saying this always."
Defence Minster A K Antony informed Parliament that the attack was carried out by 20 heavily-armed terrorists along with persons in Pakistan Army uniform along the LoC in Poonch.
The comment triggered strong reactions from political parties which said it amounted to giving "escape route" to Pakistan.
Members cutting across party lines expressed anger in Parliament, prompting Defence Minister A K Antony to assert that India will take "necessary steps" to uphold the sanctity of the LoC and give a response which will be based on "signals" and "actions" by Pakistan.
Das maintained that "clarity is given" when the defence minister said that some of them were wearing the uniform of Pakistani Army.
He said Antony has confirmed that there were some people in Pakistani uniform and there were certain terrorists with them.
Das, however, refused to answer a direct question about Congress view on whether the attack was mounted by Pakistani Army or terrorists.
To a question on what Rahul meant by seeking steps at the highest level, he said it was for the government to decide that what will be the action at the highest level in the present scenario.
Rahul meant "Prime Minister and Defence Minister" by his words 'highest level' as they are "naturally at the top level" in this matter within our country, he said.
Rejecting the BJP's criticism of government's handling of Pakistan affairs, Das repeatedly said that the party should not forget what was done during the NDA rule.
"In such adverse circumstances, had the NDA been here, their existence would have come to an end. But UPA government did not allow its programmes to fail despite such adverse circumstances," he said.
Asked whether the incident was not a provocation enough to stall dialogue process, he said, "You want sudden decision. No sudden decision is required on such sensitive issues. The decision will be taken according to prevailing situation and time and you, us and people of the country are capable enough to take a decision."