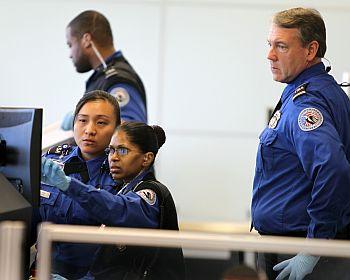 Travellers from 14 nations, including Pakistan, Afghanistan, Nigeria and Saudi Arabia flying into the United States will face additional screening starting Monday, US officials have said.
The heightened security procedures include full body pat downs before boarding, checking of carry on baggage, and random checks on US bound flights, Transportation Security Administration said on Sunday.
"The directive also increases the use of enhanced screening technologies and mandates threat-based and random screening for passengers on US-bound international flights," TSA said in a statement.
"TSA is mandating that every individual flying into the US from anywhere in the world travelling from or through nations that are state sponsors of terrorism or other countries of interest will be required to go through enhanced screening," it added.
Other marked countries include Saudi Arabia, Algeria, Lebanon, Iraq, Yemen, Somalia and the US considers Cuba, Iran, Sudan as well as Syria as state sponsors of terrorism. The new rules will apply to anyone stopping in these 14 nations and passport holders of these nations.
However, American citizens and foreigners not flying through these nations will not be subject to the enhanced screening, Obama administration officials said.
Security was tightened in the US and airports in all major cities following an attempt by a 23-year-old Nigerian student to detonate an explosive aboard the Delta Flight from Nigeria that landed in Detroit via Amsterdam.
In the week following the incident on Christmas day, several flights including Air India, Air Canada and British Airways beefed up the security. American Airlines noted, at the time, that the US Transportation Security Administration has issued "new security measures for all flights departing from any foreign location to the United States".
The new measures come after an outcry from US politicians about the security breach that could have led to a catastrophic result on the Delta flight if the incendiary device had been set alight.
Senator Susan Collins, senior member on the Homeland Security and Governmental Affairs Committee, expressed deep concern at the security lapse and called for US authorities to be "vigilant and alert".
"It is troubling that he was apparently able to bring explosive material on the air plane," she said, in a written statement. "This incident is a disturbing reminder that the terrorist threat is still very real and that we must continue to be vigilant and alert. It also raises some serious questions."
The new rules mean that thousands of citizens from any of these 14 nations will also be subject to, in some airports, whole body scanners that can detect explosives below the clothing, which have not been used previously due to privacy concerns.
Following the announcement, several rights group in the United States have already voiced their concerns that the new rules are discriminatory and imply that citizens of these 14 nations are to be treated as suspects.

Image: TSA officers look at an X-ray screen at a passenger security checkpoint at Newark Liberty International Airport in New Jersey
Photograph: Mike Segar/Reuters