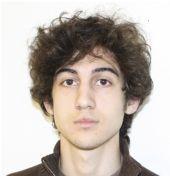 American investigators on Monday started grilling the lone surviving Chechen-origin Boston bombings suspect after he regained consciousness and was able to scribble out written responses, as authorities were preparing a chargesheet to nail the accused.
Boston Marathon bombing suspect Dzhokhar Tsarnaev is awake and responding sporadically in writing to questions, authorities said.
Investigators are asking about other cell members and other unexploded bombs, law enforcement sources were quoted by ABC News as saying.
Previously officials said Dzhokhar was in no condition to be interrogated.
19-year-old Dzhokhar is being treated at BethIsraelDeaconessMedicalCenter in Boston, where he is listed in serious but stable condition, with wounds to the neck and throat area, according to sources.
He was unable to speak due to serious throat injury.
Federal authorities said the charge sheet against Dzhokar could be filed early next week by the US Attorney General.
Investigating agencies, including the FBI, the Boston Police, are busy preparing the charge sheet against Dzhokar, as a senior police official today said they have enough evidence to nail down the suspect.
Tamerlan Tsarnaev, 26, was pronounced dead on Friday after suffering shrapnel and bullet wounds in a gunfight with police, while his brother Dzhokhar was later arrested in connection with the bombings that killed three people and wounded 180 others.
Those involved in preparing the charge sheet said Dzhokar, who was arrested on Friday night, would be charged with terrorism and state murder charges.
The Boston mayor had told reporters earlier that he could be charged as early as Sunday, but that did not happen.
"Information we have is that there was a shot to the throat, and it's questionable whether - when and whether he'll be able to talk again it. It doesn't mean he can't communicate but, right now, I think he's in the condition where we can't get any information from him at all," Senator Dan Coats, a member of the Senate Armed Services Committee, said.
Image: Dzhokhar Tsarnaev
Photograph: Reuters