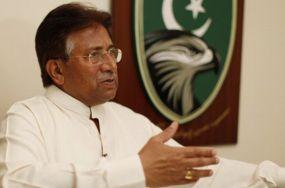 The profound significance of the events of the past week lies in that the struggle for civilian supremacy has truly begun in Pakistan and its consequences are going to be far-reaching for India-Pakistan relations, says M K Bhadrakumar.
The Boston Marathon bombing rudely pushed to the sidelines everything else in the world media attention.
However, in the long term, the fate that awaits Pakistan's military dictator and former president Pervez Musharraf will have far greater impact on regional security in South Asia than anything that happened in a very long while.
The common perception in India is that Musharraf's fate is "sealed" and that for once his chutzpah failed to work. Period.
The Indian commentators are reveling at the dictator's discomfiture and are narrowly focused on it.
The Indians somehow got an entrenched opinion of Musharraf's personality as a curious "mix of bluff, bluster, swagger, insouciance, candor and above all, duplicity," as a leading commentator wrote in a Delhi newspaper this week.
There is perhaps an element of truth in this perception, because Musharraf's political personality had an erratic streak in it at times.
But it is equally possible to say that there was always tantalising scope to discern that there could be some method in his madness, too.
We may never know. At the end of the day, the Indians didn't really try him out on his out-of-the-box formula for a Kashmir settlement.
The sight of the famous commando panicking and fleeing the Islamabad high court premises when the order to arrest him was issued somehow will remain etched in memory as the final account of Musharraf.
But it needn't be. The court of course had an ancient score to settle with Musharraf.
It intended to humiliate him in public and to most onlookers, including, surprisingly, the Xinhua news agency reporter, this appeared to be "poetic justice."
However, on closer examination, which is always advisable when it comes to the undercurrents in Pakistani politics, doubts arise about what is really happening, and the events soon begin to acquire a surreal look.
In Pakistan, once an army general, you are always a general. They belong to a brotherhood. They circle the wagons at the slightest inkling of a challenge to their corporate interests.
Suffice to say, considering that all this is so very obviously a high-stakes political game, it is impossible that Musharraf didn't sound out the army leadership in Rawalpindi about his intention to return to Pakistan.
Equally, it is inconceivable that he defied the advice that was forthcoming from Rawalpindi and chose to return nonetheless come what may.
That is, assuming that he never bothered to consult the authorities of the country of his exile, Britain, or his Saudis and American mentors and benefactors.
Clearly, Musharraf factored in the 'x-y-z' possibilities that awaited him in Pakistan, including, most important, the wrath of an unforgiving judiciary, which he treated disdainfully.
And yet, if his fate -- political and physical -- was in mortal danger, he nonetheless estimated he could be one hundred percent certain that the present army leadership wouldn't let him be flushed down the toilet just like that.
The events, which are still unfolding, suggest that he wasn't really far off the mark here. What gave him this confidence?
Thus, the question that begs an answer is as regards the game plan of the Pakistani army. No one from the army has spoken.
But enough indications are available even from a reading of the Pakistani media that the army leadership in Rawalpindi will find it extremely difficult, if not impossible, to countenance a situation where a 5-star general is treated like dirt.
Indeed, truth and reconciliation are difficult to reach in Pakistan when that country's history is as tumultuous as it is, and the entire political class (and the judiciary and the executive as a whole) has been compromised at one point or the other.
Thus, as a perceptive Pakistani journalist of the Dawn newspaper Anwar Iqbal wrote in the weekend, while there is great temptation to lock up Musharraf in the same cell where Nawaz Sharif was kept in Pakistan's notorious Attock Fort and let snakes and scorpions into his room so that he too cries out in pain, or to handcuff and shackle him and parade him through the streets of Karachi and Quetta, or to do unto him "what they did to Zulfikar Ali Bhutto, Benazir and Nawaz Sharif", there is also at the same time a growing body of opinion slowly gaining dominance through the cacophony of revenge calls, which cautions that "ground realities must not be ignored, after all, he is a former army chief and the military obviously will not like this humiliation.
A dress rehearsal
However, it is not a mere question of the military's perceived "humiliation" that is at stake here.
Interestingly, Chaudhry Shujaat Hussain, the well known spokesman of the landed aristocracy and politician from the heartland Punjab province with a consistent history of soldiering tirelessly for the military's interests has already raised his voice that the trial of Musharraf should not target any specific institution of the state.
Of course, Chaudhry Sahib meant the Pakistani military and it is doubtful if the feudal lord could have spoken without prompting from Rawalpindi.
In sum, Musharraf's fate will have a huge bearing on Pakistan's political economy. In a way, it is a dress rehearsal for an impending struggle for civilian supremacy in Pakistan that the new elected government, which by all accounts will be headed by Nawaz Sharif, can be expected to spearhead.
Put differently, the profound significance of the events of the past week lies in that the struggle for civilian supremacy has truly begun in Pakistan and its consequences are going to be far-reaching for India-Pakistan relations, for Afghanistan and for regional security in general.
To be sure, there will be hiccups on the way, as the Turkish experience also shows.
But the democratisation process is bound to gain strength incrementally in Pakistan even if the current round may seem an uneasy deuce.
In Turkey, over 300 Pashas are currently sitting in jails and yet life moves on in Ankara and Istanbul, although hardly three years ago, this would have seemed a preposterous thing to contemplate.
M K Bhadrakumar is a former ambassador.