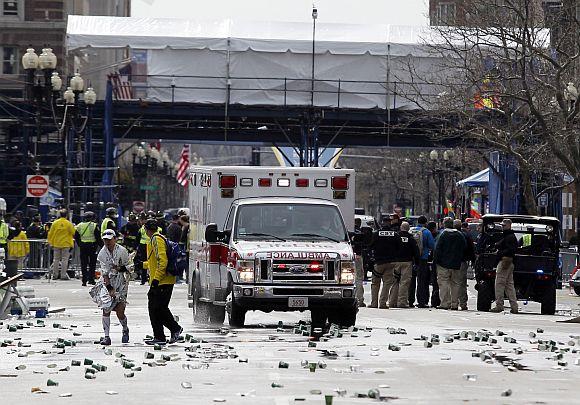 One of the two Chechen-origin Boston bombings suspects, arrested after a massive manhunt, had tweeted a picture of a car with a licence plate that read 'Terrorista #1', a month before the attack.
Dzhokhar Tsarnaev 19, tweeted a picture of a BMW 330XI bearing personal front plate on March 15. The photo showed the BMW parked next to a Chevy as if the two cars were about to race. A caption read, "Place your bets".
The license plate is not official. It's a novelty plate that could be bought in a gift shop.
The car is said to belong to friends of Dzhokhar. Meanwhile, two of Dzhokhar's friends at University of Massachusetts Dartmouth, who neighbours said rent or lease the car, were arrested by federal officials on Sunday afternoon for immigration violations, the New York Post reported.
The students, who sources identified only by their first names, Azamat and Dias, face deportation. "They were in there for a while and then they took (the boys) away very quietly," a neighbour said of the activity at the Hidden Brook Apartments.
A spokesman for the immigration and customs enforcement confirmed the arrests. The duo and a young woman had initially been picked up for questioning by local police and Federal Bureau of Investigation agents on Friday, but were later released.
The neighbour spoke to the boys in between their two encounters with law enforcement. "They said they didn't believe what was happening to them. I said neither did I," she recalled.
Dzhokhar returned to the campus on Monday or Tuesday after he and his brother Tamerlan Tsarnaev, 26, allegedly carried out the Boston Marathon bombings that claimed three lives and wounded over 180.
Dzhokhar was the subject of an intense manhunt until he was cornered and captured in a backyard in Watertown on Friday evening. His brother, Tamerlan was killed early Friday morning in a shootout with the police.
The police said they first learned of Dzhokhar's connection to the campus on Friday when, according to local media, they got a tip about a "Chechen house", where a number of Chechen students live.