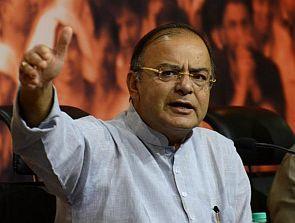 The Bharatiya Janata Party on Thursday alleged the government is trying to spread disinformation that the opposition had initially supported the bill on convicted lawmakers but did a volte face later and insisted that it has been against the move from the beginning.
Leader of the Opposition in Rajya Sabha Arun Jaitley said in an article posted on BJP's website that the party is constrained to clear the air as UPA ministers are "misleading" the people.
Referring to the all-party meeting held on August 13 where the Supreme Court judgement against convicted lawmakers was discussed, Jaitley said that at the end of the debate the impression conveyed to them was that the government would finalise the some proposals that came up in the meeting and refer the matter to a Standing Committee for formulation of opinion.
"The government has tried to convey an impression that the BJP was in full support of the legislation which was proposed. In fact, only various options were discussed. I am constrained to set the record straight on account of his disinformation being spread by the government," Jaitley said.
He claimed Law Minister Kapil Sibal had later informed him that the government was planning to bring a constitutional amendment. He dissuaded the government from doing so.
Jaitley said the government then mulled amending Section 8(4) of the Representation of People Act but he opined that the changes being made would be unconstitutional.
Recounting another meeting he had with Sibal and Leader of the Opposition in Lok Sabha Sushma Swaraj on September 2 on the same issue, Jaitley said "we felt that it was morally questionable and constitutionally invalid."
Jaitley recalled that when the government had extended this year's monsoon session of Parliament by a day, Swaraj and he categorically told the government that BJP was opposed to the passage of this amendment.
"In view of a divided opinion, the government informed us that this was being referred to a Standing Committee. We were shocked when the ordinance was issued even though a bill was pending consideration before the Standing Committee. We opposed the issuance of the ordinance on several grounds," Jaitley said.
In the course of the series of discussions in relation to the bill, the main opposition has opposed it all along and conveyed its opposition to the government, according to Jaitley.
"I am making the above facts known publicly since a campaign of disinformation has been launched by a beleaguered government," he said.