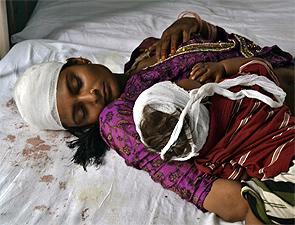 The Uttar Pradesh government is yet to respond to the Centre's call seeking details concerning the deaths of children at relief camps for the victims of the Muzaffarnagar riots despite four requests for the same.
The Union Home ministry has asked the state government about the number of children who have died so far at the relief camps in western Uttar Pradesh, the reasons for the deaths and the steps taken to prevent further casualties.
"We have sent four letters, beginning December 8. The latest one was sent today. However, UP government has ignored all our queries," a senior government official said.
During his visit last week to the area, some displaced persons at these shelters told Congress Vice-President Rahul Gandhi that 23 children had died at the relief camps due to the cold, especially as they lacked warm clothes.
Bahujan Samaj Party had continuously disrupted proceedings during the recently-concluded winter session of Parliament, claiming that the death of a large number of children at the relief camps had been caused due to the apathy of the state government.
Reports in the media said that 40 children have so far died in these camps.
According to a high-level committee constituted by the UP government to look into the matter, at least 34 children below the age of 12 years have perished in the relief camps in the Muzaffarnagar and Shamli districts.
The deaths occurred between September 7 and December 20.
According to the report, 4,783 people are still living in five relief camps in the area -- at Loi in Muzaffarnagar district and at Madarsa Taimul Shah, Malakpur, Barnavi and Edgah in Shamli district.
"Most of the children who lost their lives were those who had been taken outside the camps for treatment by their parents or were referred to government hospitals," said Principal Secretary (Home), AK Gupta.
Gupta had earlier sparked a controversy through his comment that nobody dies due to the cold. Had that been the case, people would not have survived in Siberia, one of the world's coldest regions, Gupta had said.
Taking exception to the remark, UP Chief Minister Akhilesh Yadav had asked officials to watch their words and ensure that nobody's feelings were hurt.
"Use of words by officials or party men, whether about the government's drawbacks or the party's achievements, should be such that nobody's feelings are hurt," he said.
Mulayam Singh Yadav, the Samajwadi Party chief, too, had created a controversy when he claimed that no riot victims were now living at the camps, only political activists belonging to the Congress and the Bharatiya Janata Party who were continuing there as part of a conspiracy to tarnish the image of his party's government in Uttar Pradesh.