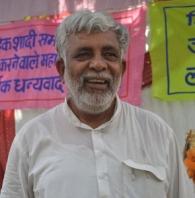 In an embarrassment for the Akhilesh Yadav government, Uttar Pradesh Minister Surendra Patel was caught on camera when he manhandled a youth during a programme at his residence in the district.
Patel was caught on camera slapping a youth when attempts were being made to restore order during a blanket distribution programme at his Raja Talab residence on Sunday
The minister has denied that any such incident took place.
Patel claimed the youth seen in the video is his 24-year-old nephew, Rajit Patel, whom he "patted". The minister claimed that he was asking his nephew to bring more blankets for distribution among the people who were present there.
Sources said Patel had personally organised the programme to distributing 10,000 blankets which drew huge crowds to his residence.
Superintendent of Police, Traffic, O P Pandey, along with policemen from three police stations, were present at the spot.
In the ensuing scuffle, the minister was seen manhandling a young man.
The minister told PTI that no such programme had been organised.
"Somehow, a wrong message was sent, and the unprecedented crowds became unmanageable," he said.
"As no programme had been organised and the media had not been invited, it is nothing but a conspiracy by my political opponents," he added.