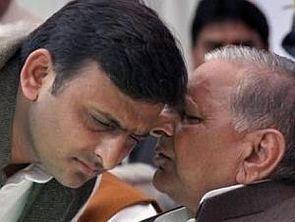 The Samajwadi Party leadership in Uttar Pradesh came under attack on Sunday over holding the annual festival of song and dance at the Yadav family's native village at a time when hundreds of victims of Muzaffarnagar riots were living in difficult circumstances in relief camps.
Chief Minister Akhilesh Yadav, however, defended the two-week long "Saifai Mahotsav" that commenced on December 26, calling it a Samajwadi tradition and said he is well aware that the event will come under the scanner of the media.
"I know you have not come here to cover the festival, but instead you have come here to show in one window that people are suffering in the camps and on the other, you will show the festivities," the Samajwadi Party leader told reporters at Safai in Etawah district, about 250 km from Lucknow.
Aam Aadmi Party leader Sanjay Singh condemned the staging of the event and slammed the SP government for "demolishing few relief camps" meant for the riot victims of Muzaffarnagar and Shamli.
"UP government should compensate victims and do something for them," Singh added.
Union Minister Beni Prasad Verma was among others who attacked the SP leadership over the annual event. "While children are dying daily in these relief camps, Yadav is organising Saifai Mahotsav and programmes by dancers from foreign countries. He should immediately postpone Saifai Mahotsava. He is making fun while children are dying. The curse of these children will finish him," Verma, who has been always critical of the Yadav family, said.
Several popular personalities from the entertainment industry perform at the event. Dancers from foreign countries are also flown in.
Samajwadi Party spokesman Rajendra Chaudhary said the state government was doing everything possible to provide relief and succour to the riot victims.
Image: UP CM Akhilesh Yadav with father Mulayam Singh Yadav, the chief of Samajwadi Party