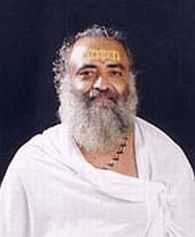 Keeping the police waiting, self- styled godman Asaram Bapu, who was summoned by Jodhpur Police to appear before it in a sexual assault case, did not surrender on Friday, with his son claiming that he was taken ill even as the Rajasthan Police decided to send a team to Madhya Pradesh to interrogate him.
Asaram's son Narayan Sai claimed that his father had booked his tickets for a flight to New Delhi on Friday morning but his health suddenly deteriorated because of which the air tickets had to be cancelled.
On when Asaram plans to go to Jodhpur, he told reporters that it will all depend on the medical condition of his father.
"We will tell you when Bapu becomes fit enough to travel to Jodhpur (Rajasthan)," he said.
Bapu does not believe in taking western medicines and will take only Ayurvedic treatment, Sai added.
In Jodhpur, DCP Ajay Lamba had said earlier in the day, "Asaram has no justifiable reason to skip the deadline. If he fails to come today, a team led by the investigation officer will leave for the place where Bapu is present for interrogating him."
72-year-old Asaram had on Thursday said that he would not seek more time to present himself before the Jodhpur police, which is probing into the allegations levelled by the minor girl and had summoned to appear before the Jodhpur police on or before August 30.
He had said that if he is sent to jail, he would begin a fast as he did not trust the food which would be served to him as "part of a conspiracy".
This came after senior BJP leaders from Madhya Pradesh, Uma Bharti and Prabhat Jha had recently defended Asaram, terming rape charges against him as a "Congress conspiracy".
The controversial godman had yesterday accused Congress President Sonia Gandhi and son Rahul, without naming them, for getting him framed in the sexual assault controversy.
"I am not against any party but people tell me that it is at the instance of madam and her son that this is happening. For four-years-and-a-half those behind (religious) conversions are getting their support," Asaram had told reporters in Bhopal on Thursday.