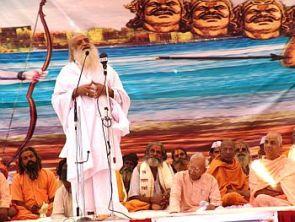 Self-styled godman Asaram Bapu sought more time from Jodhpur police for appearing before it in connection with sexual assault charges against him even as he dismissed the allegations as being "baseless".
The 72-year-old godman, who personally received the police summons for questioning in the case, claimed he had been framed as part of a conspiracy.
"The allegations levelled against me are dirty and baseless and I have been framed as part of a conspiracy," Asaram told reporters at his ashram.
However, he did not elaborate on the conspiracy angle and neither did he take any names. Asaram claimed at the time of the alleged incident, he was not present in his Jodhpur ashram, but was in a hut in solitude.
Responding to a query related to the charges, he said, "At present I am not planning to apply for an anticipatory bail, but will take a call on it depending upon the situation".
Earlier in the day, Asaram made the team of Jodhpur police, which had arrived to hand him the summons, wait for over six hours with his followers saying he was meditating.
The notice directed him to appear before Jodhpur police by Aug. 30 for questioning in connection with the charges levelled against him by a 16-year-old girl.
However, citing prior engagements till Aug. 31, Asaram sought more time to appear before the police.
Meanwhile, a young woman, Ashvini, claimed that when she spoke to the complainant over the phone a few days back, the latter had told her that she had filed the complaint against Asaram upon instructions from her parents. The victim later disconnected the call, she said.
Ashvini, a resident of Indore, claimed she had studied with the complainant for nearly four years at Asaram's ashram at Chhindwara in Madhya Pradesh.