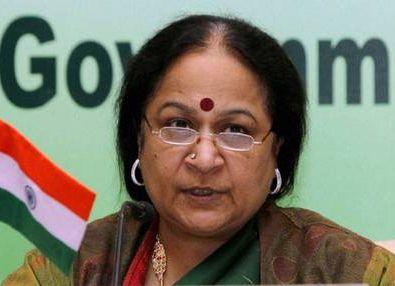 While its widely being publicised that Environment Minister Jayanthi Natarajan resigned from the council of ministers to work for the Congress party ahead of the crucial Lok Sabha polls, political observers point out that 'growing unhappiness' over her performance during her ministership could have possibly led to the move. Renu Mittal reports.
Just before Congress vice president Rahul Gandhi addressed the closing session of the FICCI annual general meeting on Saturday, Minister of State with independent charge of Environment and Forests Jayanthi Natrajan resigned from the council of ministers. In this season of change and possible revamping, it is being believed that Jayanthi is being drafted for party work in view of Congress' Mission 2014.
Rediff Exclusive! Click HERE to read Jayanthi Natarajan's resignation letter to the PM, and also PM's response
But is there more to it than meets the eye? Possibly yes, say political observers.
In his speech at the FICCI event, Rahul Gandhi spoke about environmental clearances and made it clear that how many of the assembled FICCI members had met him to discuss clearances.
Rahul said there are many loopholes in the policy, and pointed out that the growth story should go ahead, and for this industry's growth has to continue and projects must be allowed to take off.

There were a large number of complaints against Jayanthi Natarajan from senior congress leaders and ministers including Prime Minister Manmohan Singh, Finance Minister P Chidambaram, Planning Commission head Montek Singh Ahluwalia and even President Pranab Mukherjee when he was in the government.
Nationalist Congress Party supremo and Agriculture Minister Sharad Pawar is known to be particularly unhappy with Natarajan.

Very recently, the environment minister passed an order which affected large sections of Kerala, threatening displacement of 30,000 people in the Western Ghats. The entire Congress party including Chief Minister Oommen Chandy and the Kerala Pradesh Congress Committee chief Ramesh Chennithala were up in arms and the order was rolled back just two days ago.

Jayanthi is likely to be brought back to the All India Congress Committee media department as a spokesperson -- however, now that she has resigned, there are various quarters in the party who allege that she was asked to put in her papers in the wake of severe complaints against her. Some in the party also feel that the move was a precursor to Rahul Gandhi addressing the captains of industry, offering them an investment-friendly and pro-business government which believes that the industry has played a big role in building the nation and creating wealth and jobs.

"Rahul Gandhi is known to speak frankly and is keen to send out the message that he practices what he preaches and does not mouth mere empty words," a Congress leader remarked.