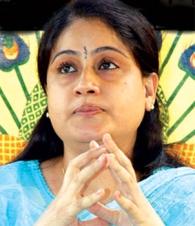 Telangana Rashtra Samithi has decided to suspend its member of Parliament from Medak, M Vijayashanthi for indulging in anti-party activities.
TRS President K Chandrashekhar Rao has taken a decision to this effect as an unanimous opinion expressed by the party politburo, TRS sources said.
The party has alleged that Vijayashanthi had resorted to anti-party activities earlier too, but it has taken the decision to suspend her now.
Party sources added that a show cause notice would be served on her before the suspension asking her why she should not be suspended.
Vijayashanthi, a popular south Indian actress represents Medak in the Lok Sabha, while K Chandrashekhar Rao being the other party MP from Mahaboobnagar.
The TRS has been having an uneasy relation with Vijayasahnthi for long in the wake of reports that she may not be fielded from Medak in 2014 Lok Sabha elections. She has also reportedly met senior Congress leaders in Delhi in the last few days allegedly to switch her alliances to the ruling party.