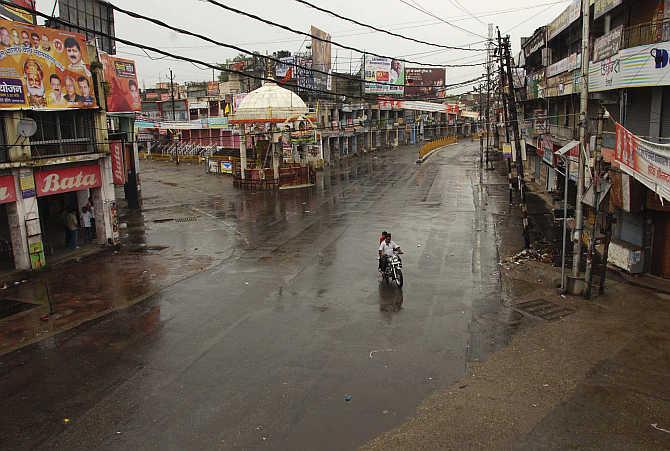 Uttar Pradesh Chief Minister Akhilesh Yadav on Thursday cracked the whip on top cop Arun Kumar, holding him responsible for the failures in Muzaffarnagar, where communal violence took nearly 50 lives earlier this month.
Kumar was divested of the all important position of additional director general (law and order). He has been replaced by a 1987 batch Indian Police Service officer Mukul Goel, who was so far holding the charge of additional director general (Railways).
Goel was handpicked by state police chief Devraj Nagar for the key position soon after Kumar's mishandling of the situation in Muzaffarnagar got exposed. In fact, far from controlling the situation, Kumar's presence on the ground zero only resulted in making matters worse.
While Kumar was personally supervising the operations on September 7 and 8, the carnage not only worsened, but also extended to the neighbouring areas. Except for moving around the riot-affected areas on a 20- vehicle motorcade, Kumar failed to make any impact.
A high-profile officer of 1985 batch, Kumar had shot into fame after he successfully carried out the encounter of dreaded mafia don Shri Prakash Shukla.
However, he earned a poor name while investigating the Arushi Talwar murder case. So cut up was the Central Bureau of Investigation with him that Kumar was shunted out and reverted to his parent cadre, Uttar Pradesh.
Soon after the Samajwadi Party rode on to power, he used his connections with Samajwadi Party chief Mulayam Singh Yadav to get the prized position of additional director general (law and order).
Interestingly, as soon as it became evident that he would have to face the brunt for the large scale rioting in Muzaffarnagar and around, he moved an application for his return on deputation to the Centre.
The impression that he gave was that he wanted to move out of the state because of "undue political interference". Evidently, the idea was to pass the buck for his own failures to "interference by a senior minister."
It was at this juncture that the state government decided to remove him from the coveted post.