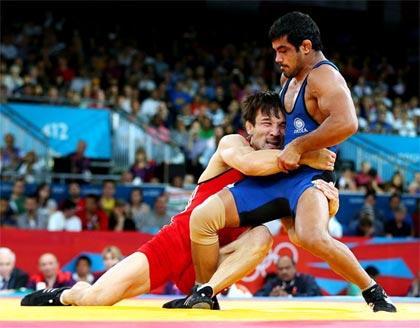 The rising graph of the country's grapplers seems to be having no positive impact on the proposed Indian Wrestling League (IWL) as it has been postponed once again due to mild response from prospective franchises.

IWL, a tournament on the lines of popular cricket extravaganza Indian Premier League (IPL), was announced after impressive showing by Indian grapplers at the 2012 Olympics and was initially scheduled for January-February this year. It was later postponed to November but now it seems the wait is going to get longer.

"There is no possibility of having the proposed league this year. We want to hold it on a very big platform including participation from world-class wrestlers and more prize money. This requires huge investments and we are still working towards it," IWL commissioner and chairman G S Mander said.

"We have now planned it for November next year after World Championships in September," he said.

The organisers are now planning to stage the multi-city franchise based tournament in a bigger and a more entertaining format that would require a seasoned commercial partner to promote the event.

"We first mooted the idea of this league in 2011. Since then the popularity of our sport has grown leaps and bound. Also, the historic performance at the World Championships has definitely added to buzz," Mander said, while adding that their existing promoters Leisure Sports Management (LSM) do not have enough experience to handle such a big event.

"We are looking for a new partner who has some experience of holding big tournaments. We hope to finalise it soon," he added.

While the league drew interest from states like Haryana, Uttar Pradesh and Punjab, the organisers are still looking for enthusiasm from franchises based in southern and eastern states.

The organisers were hoping for an encouraging response from countries at the Asian championships held here in April this year but received a mild reaction.

"It has to start with minimum six city-based franchises. There is no point hosting a league with teams less than that. We want to make it a pan India event.

"We got a title sponsor on board and along with franchises," the former WFI president said.

Jindal Steel Works (JSW) and Nandininagar, a township between Faizabad and Gonda in UP, have already shown interest.

With badminton successfully launching an IPL-style league (IBL) a few months back, the Wrestling Federation of India (WFI) is keen to start the venture soon but is struggling to get backing from corporates.

"We haven't put off the idea. Unfortunately, it is taking time. If badminton can do it we also can," he said.

The leading wrestlers - both men as well as women - would take part in the competition in all seven different categories in freestyle wrestling on home and away basis.
Image: Sushil Kumar of India in action against Akzhurek Tanatarov of Kazakhstan during the men's freestyle wrestling 66kg semi-final bout at the London 2012 Olympic Games.
Photographs: Ryan Pierse/Getty Images