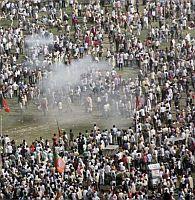 The police have arrested a third suspect in connection with the Patna blasts.
The suspect, Tabish was picked up from Ranchi late Tuesday night following a series of raids.
His name cropped up following the interrogation of Imtiaz Ansari, who was picked up on Sunday.
According to Bihar police, Tabish was in touch with Ansari on the day of the blasts.
His exact role will, however, be ascertained during his questioning, Bihar police officials tell rediff.com.
Meanwhile, the police continue to look for unexploded bombs in Patna.
Ansari had told them during questioning that there were more unexploded bombs at Gandhi Maidan. The police had recovered five such bombs on Tuesday.