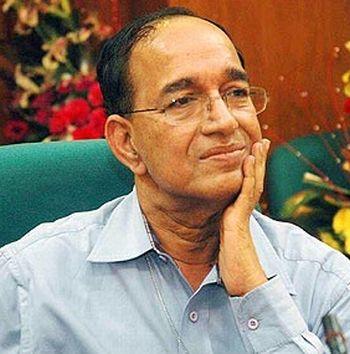 Chief Election Commissioner V S Sampath said on Tuesday that the Election Commission would "dispassionately" examine Rahul Gandhi's speech made at Indore on October 24, stating that Pakistan's Inter-Services Intelligence was in touch with victims affected by the Muzaffarnagar riots.
"The commission has received a report on Rahul's speech from the Indore collector and this was forwarded to them by the Madhya Pradesh Chief Electoral Officer's office. The entire material is with us and we will examine it in a dispassionate manner," the CEC told reporters in Bhopal on Tuesday.
A delegation had also met the commission in New Delhi before it had left for Bhopal on Monday, Sampath said, adding that what it said would also be taken into consideration.
The CEC arrived in Bhopal to review preparations for the forthcoming assembly poll preparations in the state next month and expressed satisfaction over the arrangements.
He said that there is no bar on publishing or telecasting opinion polls but clarified that it cannot be published before 48 hours of the polls.
The CEC also exempted accredited journalists getting life-threat calls from depositing their arms' licences, in states where poll dates have been announced.
On BJP's demand that the Election Commission should take cognisance of blasts at its prime ministerial candidate Narendra Modi Sunday rally in Patna, the CEC said, "Bihar is not a state where polls are taking place."
Referring to complaints on using religious and caste sentiments in politics besides cultural events and events like yoga camps, Sampath said that the commission has given directions to officers that non-political events would not be allowed to be mixed up with political and electoral activities.
Image: Chief Election Commissioner V S Sampath