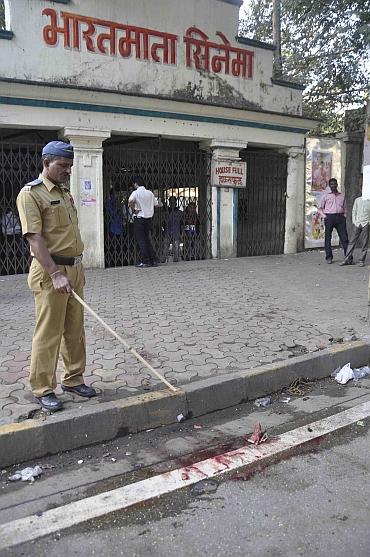 A teenager was stabbed to death allegedly by a 60-year-old man following an argument at the ticket counter of a cinema hall in Mumbai on Monday, the police said.
The 19-year-old victim, Ajay Khamkar -- who was with his brother --was stabbed in the back by the accused, who tried to escape but was caught by traffic policemen.
According to police, at about 2pm, Ajay reached Bharat Mata Cinema at Parel, central Mumbai with his elder brother Tushar, 23, for 3pm show of a just-released Marathi film.
While standing in the queue for ticket, the brothers had an argument with the accused, Ashok Chavan, who tried to sneak into the waiting line.
"Ajay and Tushar protested and an argument ensued. The verbal duel escalated and led to a minor scuffle. Chavan was manhandled by the two at which he felt very insulted," said Vikram Patil, Senior Inspector of Bhoiwada police station.
Chavan backed out from the fight and went to a nearby coconut vendor from where he came back with a chopper and stabbed Ajay, who was employed with a private bank, multiple times.
A profusely bleeding Ajay collapsed on the ground, while Chavan ran-off from the spot, he said.
"Two traffic police constables heard the commotion at the theatre and saw Chavan running. They chased and caught him and seized the knife. They brought him to Bhoiwada police station," added Patil
In the meanwhile, Tushar took Ajay to the KEM Hospital where he was declared dead on arrival.
Photograph: Sahil Salvi