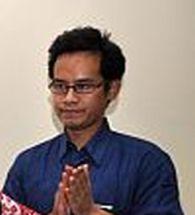 Electioneering in Kaliabor Lok Sabha constituency in Assam, Congress candidate Gourav Gogoi, son of Assam Chief Minister Tarun Gogoi, has been asking the electorate to choose Congress vice-president Rahul Gandhi over BJP's Narendra Modi.
Opt for the 'ever-smiling face' of Congress vice-president Rahul Gandhi than to the 'stern-looking face' of BJP's Narendra Modi if they are longing for a prosperous, harmonious and peaceful Assam after the polls.
"Look at Modi's posters and see how sternly he looks at you. Look at Rahul Gandhi's
poster and see the love behind his ubiquitous smile that wins hearts of crores in the country," said Gogoi.
"Modi looks stern as he wants to create a Gujarat in Assam," Gogoi said while addressing a poll meeting in the interior Muslim-dominated areas of his constituency.
"We don't need a Gujarat in Assam. In Gujarat, Modi doesn't work for the poor and downtrodden, for women empowerment but for the big industry houses. Here we (Congress) work for development and empowerment of poor, women, youth and old. So, cast your vote to prevent Modi and the BJP from converting Assam to Gujarat," said Gourav who is contesting his first election from his family fiefdom in Kaliabor constituency.
He said it was not Modi who came to call on the people of Assam at the time of the flood and riots but Rahul Gandhi.
"Your blessings are invaluable for me. It was invaluable too for my father who first became an MP, from here, then a Union minister and finally the chief minister of Assam. You just give me 10 per cent of the blessings you had showered on my father, I will repay with 200 per cent efforts while working for your development and well being," he said.
Gourav is engaged in a triangular battle of ballot in Kaliabor with BJP's Mrinal Kumar Saikia and the AGP's Dr Arun Kumar Sharma.
The constituency is dominated by Muslim voters in most of the Assembly segments.
Image: Congress candidate Gourav Gogoi