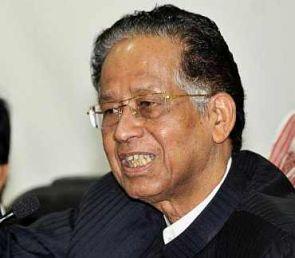 Assam Congress on Friday decided to take collective responsibility for its "failure" soon after Chief Minister Tarun Gogoi announced he would resign taking full responsibility for the party's debacle in the Lok Sabha polls in the state.
"We are all responsible for the party's performance. Why the chief minister alone, we are all ready to resign," Assam Pradesh Congress Committee President Bhubaneswar Kalita told reporters.
Asked whether he would step down, Kalita skirted the issue, saying, "This is a collective failure and the party's failure. We are all responsible and there is a need to analyse it.
"There are several reasons for the party's dismal performance and after all the results are out, we will sit together and analyse the reasons for the debacle," he said.
Earlier, Gogoi announced he would submit his resignation to party president Sonia Gandhi accepting full responsibility for the party's dismal performance.
"This is not an emotional decision. This is a temporary setback. I have seen such a situation before and the party has always bounced back," he said.
"Prior to the polls, I had said that I would step down if the party fails to win more than seven seats and Tarun Gogoi is not a man who will go back on his words," he said.
"In a democracy, there are always wins and losses. With all humility we accept the verdict of the people."
Admitting that mistakes had been committed, Gogoi said, "There is need for analysis to find out where we failed."
Asked whether dissidence in the party affected the prospects of candidates, the chief minister said, "As of now I cannot say there is dissidence in the party.
"We will come to that later when we analyse the causes. The party will decide on action if there has been anti-party activities," he said.
"There have been cases earlier, too, that some party people have not worked during the polls. We will find that out during the analysis and the party will take necessary steps," Gogoi said.
The chief minister said Indira Gandhi had lost in 1977 but bounced back and became the prime minister again with the Congress forming the government at the Centre.
"In Assam, too, such a situation had risen earlier with the Congress account being zero in 1986. Such storms do come and Congress knows how to fight back," he said.
Asked whether Congress Vice-President Rahul Gandhi should resign taking full responsibility for the party's debacle, Gogoi shot back, "Why should he resign? He is not the prime minister."