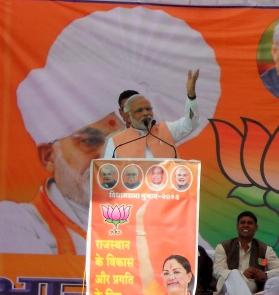 For the first time, it was neither Congress vice president Rahul Gandhi nor party president Sonia Gandhi who were the prime target of prime ministerial candidate of Bharatiya Janata Party Narendra Modi. Instead, the man on target this time was Rajasthan Chief Minister Ashok Gehlot.
In his first speech on the second day's campaigning in Rajasthan, Modi came down heavily on his counterpart Gehlot for highlighting in his speeches that it is not Gujarat but Rajasthan, which is now role model for Indian development.
"I invite him (Gehlot) to visit Gujarat with his family and I will take him to Rann to show him the memorials made for army martyrs. And he talks about development when there is not a single sainik school in Rajasthan," Modi charged.
The Gujarat chief minister, who in his earlier rally in Rajasthan, had had quipped that the pipeline he had installed in Gujarat to bring in Narmada water was huge enough to allow Gehlot and his family drive a car inside it. On Monday too, he made the same comment.
Interestingly, when Modi was addressing the Delhites a few days ago in Delhi, he had told that Chief Minister Shiela Dixit and his family could drive their on the same pipeline.
The otherwise articulate Modi, kept repeating contents from his earlier speeches. Like his earlier speeches, he again mentioned that neither, the Supreme Court or the high court nor the governor have faith in the Gehlot government.
"Mangoes from Kutch are being exported worldwide, while here, tea and snacks sellers are dying of hunger," he said.
"I have brought Narmada water for the Border Security Forces on the Pakistan border as they used to bring water using 900 camels. Now, those camels are being used for purposes other than that," he said.
"Gehlot says that Rajasthan is the role model for the country. It needs a 46-inch chest to develop a state like Gujarat," he said.
Moving on from his caustic remarks, he finally compared the five-year works of BJP leader Vashundhara Raje and Gehlot in the state.
"During Raje's tenure, the GDP was nine per cent, farming development rate was more than four per cent and the service and tourist sectors were sharing 5 per cent; while during Gehlot's tenure it is 4.9, 2.5 and 2.75 percent respectively," said Modi while reading a note.
At a rally in Bikaner, Modi said that it is a fashion for the Congress to remember the poor during the elections.
In the two days, Modi has addressed eight rallies in the state and the BJP is also trying to bring him again on November 29 -- the last day of campaigning.
Image: Gujarat Chief Minister Narendra Modi at the rally.
Photograph: Chandra Mohan Aloria