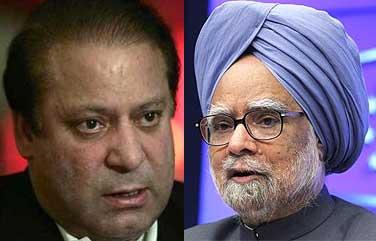 Amid violations along the Line of Control, experts believe the two prime ministers in question (India and Pakistan) are in office but have no power.
Air Marshal (retired) B K Pandey, feels that no good will come out of the talks between the two prime ministers in the future since both have the same problem that they are in office and have no power.
"The shots are being called by some one else on either side; and hence both cannot give an assurance or solve the problem," Pandey told rediff.com.
He said that he feels sad for the Indian Army which is fighting two battles -- one with Pakistan and the second with a hostile public comprising of separatists in the Kashmir valley.
"The primary job of the army is to fight infiltration and safeguard the border. The problems are plenty though. The borders are fenced, but not impregnable. There are canals which have been made by the Paksitanis through which the terrorists manage to infiltrate," he said.
"Once infiltration takes place, the other part of the battle begins. This is with regard to the separatists who do nothing but whip up passions against the Indian Army. The army basically finds no help from the locals and ends up fighting two battles. While Pakistan can be countered with aggression, the army cannot use the same logic while fighting its own people in Kashmir," Pandey added.
"The army needs to be restrained while dealing with the locals and infiltrators take advantage of this fact, and find it easier to come into the valley and get a safe shelter.
"There is no doubt that there are a lot of violations along the LoC today. It is the establishment's way in Pakistan of saying that they are very much interested in Kashmir and India should think other wise," Pandey said.
"The governments -- both at the Centre and the state are not helpful of the cause, unfortunately. The state government has its own agenda and needs to balance the political forces and at the end of it they become victims of a political conflict," he said.
"The central government on the other hand has given an exclusive status to Jammu and Kashmir and they are getting caught between two opposing compulsions. It is a sad state of affairs with none deciding anything, and sadly the Indian Army is at the receiving end," Pandey added.
While Pakistan is trying its best to keep the issue alive, India needs to hand out a stronger response. The leaders need to take a tough call politically. When both the prime ministers met, I had said that nothing will come out of the issue. This lack of solution will only ensure that the violations continue for a long time to come," Pandey said.