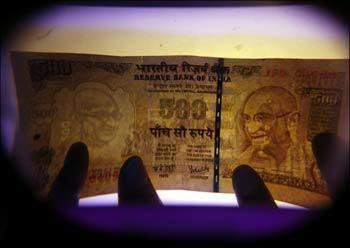 It is a virtual war that has been launched along the Line of Control by Pakistan -- and to add to the misery of constant ceasefire violations is the pumping in of fake currency which in the past six months has been valued at Rs 27 crore.
There have been over 190 ceasefire violations in 2013 alone. Most of the violations have been aimed at providing distraction fire to ensure that terrorists infiltrate into India. While a goodnumber of terrorists have managed to infiltrate, they have also managed to pump in fake currency worth Rs 27 crore since January.
Investigations being conducted into the bringing in of this huge consignment of fake currency over a period of time has revealed that most of it came into India through the Poonch sector. Once the terrorists managed to infiltrate they had persons to pick up the consignment. These persons pick up the currency, wrap the notes in cloth and transport it to Delhi on the Sampark Kranti Express from Jammu and Kashmir.
A probe that was recently conducted by the Delhi police revealed that the touts who picked up the fake currency had sought the help of a railway employee who ensured that the notes were transported without any checks.
An Intelligence Bureau report goes on to suggest that terrorists and their touts have been using several routes to land the fake currency. The Salamabad, Muzaffarabad and the Poonch Rawalkot routes are the most preferred to land in the fake currency.
While Pakistan-based terrorist groups rely on other routes as well to pump in fake currency, the past couple of months have seen a rise in such activity along the LoC. It is clear that they have managed to distract the security agencies and the infiltrators have managed to pump in fake currency a great deal.
"Security agencies are busy wading off the threat which comes in the form of fire from across the border, and in the meantime some terrorists manage to slip in and pump in fake currency", an intelligence officer pointed out.
Investigations suggest that the fake currency that was pumped in through the LoC was first brought into Delhi and then moved to Jharkhand. The Jharkhand police have managed to seize fake currency worth several crores from Sahibganj district.
Officials in Jharkhand told Rediff.com that the fake currency is becoming a headache and there appears to be a pattern behind this.
Several terror groups have often spoken about making Jharkhand a hub and fake currency could be one of the ways in facilitating that cause.