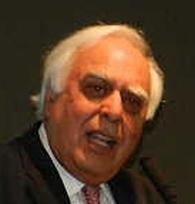 Telecom Minister Kapil Sibal was on Saturday given additional charge of the law ministry while Road and Transport Minister C P Joshi was entrusted with the charge of the railways ministry, following the resignation of Ashwani Kumar and Pawan Bansal on Friday.
A Rashtrapati Bhavan communique made these announcements after Prime Minister Manmohan Singh recommended these changes to President Pranab Mukherjee, who accepted the resignations of Kumar and Bansal.
Railway Minister Bansal resigned on Friday following the arrest of his nephew Vijay Singla last week for allegedly accepting Rs 90 lakh for fixing promotions in the Railway Board, while Kumar quit in the wake of a raging controversy over his vetting the Central Bureau of Investigation's probe report in the coal block allocations scam.
Sibal, an eminent lawyer, will get an opportunity to handle the law ministry for the first time, while Joshi had held the railway portfolio temporarily last year after the exit of Trinamool Congress nominee Mukul Roy.

"The President of India, as advised by the prime minister, has accepted the resignation from the following members of the Council of Ministers with immediate effect: Pawan Kumar Bansal and Ashwani Kumar. Further, as advised by the Prime Minister of India, the President has directed that the additional charge of the Ministry of Railways and the Ministry of Law and Justice shall be given to Dr C P Joshi and Shri Kapil Sibla respectively," the communique said.
The changes in the portfolios notwithstanding, there is speculation that there could be a reshuffle of the Union Council of Ministers soon to fill up some vacancies caused by the Dravida Munnetra Kazhagam's exit from the government.