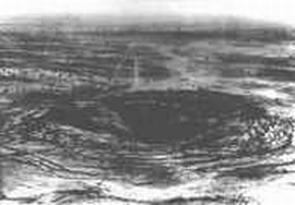 Why would an official of the Bihar government buy land in Pokharan, Rajasthan -- the site where India carried out controversial nuclear tests in 1998?
That is what the Economic Offences Unit of the Bihar police is trying to find out.
Ishwar Dayal, a block development officer of the state government charged with amassing disproportionate assets, has allegedly purchased a plot of land in Pokharan with his ill-gotten wealth.
"The EOU team is investigating why Dayal purchased a plot of land in Pokhran. Neither does he belong to Rajasthan nor does he have any connection with Pokharan," said a senior EOU official.
According to the documents, Dayal has purchased land in Pokharan's Sawami Ki Dhani village.
A team of the EOU had raided the residence of Dayal, the BDO of Mohiuddin Nagar
in Samastipur district, on Wednesday and seized assets worth Rs 91 lakh.
An FIR was lodged against him under the Prevention of Corruption Act, 1988.
The EOU team also recovered documents about various properties owned by Dayal -- including six plots of land in Patna worth Rs 44 lakh -- purchased at rates much below current market prices.
"Dayal lived like a king. He owned a silver pressure cooker and three silver spittoons," said an official involved with the investigation.
The EOU team recovered Rs 2.25 lakh in cash and gold and silver jewellery worth Rs 2.8 lakh from his residence.
In the last one and half months, the EOU has raided the residences of eight officials of the Bihar government and found assets worth crores.
The Bihar government has already sacked 95 corrupt officials.
It is all set to suspend 21 more in February and 129 in March, Chief Secretary A K Sinha said.
The Vigilance Department has also chargesheeted 856 public servants over corruption charges.
Image: The site of the nuclear test in Pokhran, Rajasthan