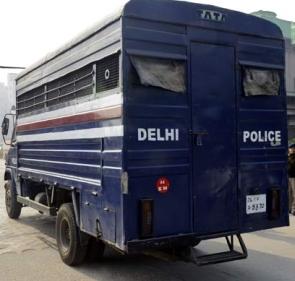 Three days after the launch of an anti-corruption helpline by Delhi Chief Minister Arvind Kejriwal, two constables were arrested on Saturday on charges of extortion by the vigilance department following a sting operation by a vendor.

Two constables identified as Ishwar Singh and Sandeep Kumar from the Janakpuri police station were nabbed following a trap laid by the anti-corruption branch officials near a discom office in the area, Rajendra Kumar, secretary to the chief minister, said.

Kumar said that a complaint was registered on the helpline by a sweater seller in the area regarding police constables demanding 'hafta' (extortion money) from them.

"He performed a sting operation and gave it to the anti-corruption department following which the trap was laid and the two constables were arrested. However, probe has been initiated to confirm if there is any involvement of the senior staff of the police station in this regard," Kumar said.

The two constables had allegedly taken Rs 3,000 from the vendor, who is also associated with a non-governnment
organisation, last month and were demanding the same amount from him again.
On Friday, a staff of an assistant registrar in the Co-operative Group Housing Societies at Parliament Street was allegedly caught taking a bribe following a complaint to the helpline. However, the assistant registrar fled from the spot.
"Whenever he is traced, he will be arrested," Arvind Kejriwal had said.
The Delhi government had introduced 1031 -- an easy to remember anti-corruption helpline number -- replacing the eight-digit number launched two days back which received a whopping 23,500 calls.
The new helpline number -- the first in the country -- was announced by Kejriwal at a press conference.
On Wednesday, Kejriwal had introduced 011-27357169 as the first anti-corruption helpline.
On Saturday, the helpline received 11,952 calls from 8 am till 6.30 pm out of which 54 were just normal complaints and "around 20 cases as of now ripe for laying trap", sources said.
According to sources, there are 60 lines of the helpline and 30 officials supervise them and take calls.
Photograph: Reuters