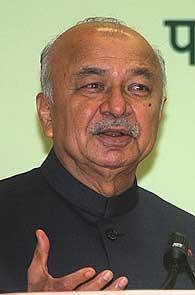 Facing flak for several goof-ups, Home Minister Sushilkumar Shinde on Thursday expressed disappointment over people misunderstanding him over his comments and said a "wrong impression" is being created.
Referring to a recent incident, where the minister had expressed his desire to bring in a new and attractive uniform for Home Guard personnel, Shinde said it was reported that he was intending to change the official dress of all central paramilitary forces.
"Sometimes, I make a statement and some people at the higher level, those who are retired, misunderstand me. When I had talked about the (change of) uniform of home guards, they took it for a (change in) uniform of the entire paramilitary forces. Some people misunderstand me and give a wrong impression," he said at an event of the Border Security Force.
Shinde had recently received flak for prefixing 'Shri' before the name of LeT founder Hafiz Saeed and disclosing names of the victims of the Bhandara rape incident in Parliament even though the fault was apparently on the part of officials who prepared the statement which he made.
"No, I will never speak (like that)," he said referring to the recent incident after a few retired IPS officers apparently voiced concerns that uniforms of paramilitary forces should not be changed as they had been designed after a lot of thinking.
"I only meant that Home Guards should look smart," he said.
"I have great loyalty to the police force because I started my career in it, smart young people should think (that) yes, one day, I will join the police. I appeal to youngsters to join the Home Guard and civil defence," said Shinde, who was himself a sub-inspector in Maharashtra police for sometime.
During the BSF investiture ceremony, attended by a number of serving and retired police officials of various forces, the home minister said politicians have "a lot more sources" than intelligence agencies.
Shinde asked BSF bosses to be "little more considerate" about the grievances and requirements of the troopers deployed on the border and for other internal security related duties in the country.
He said the force was observing 2013 as the 'year of the jawan' and promised to improve the living conditions of troopers on the borders over a two-year period.