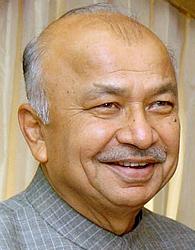 In the home ministry headed by him, you have to look hard to see success, says Aditi Phadnis
Sushil Kumar Shinde's politics belongs to another era. That can be the only reason for his nonchalant statement in reaction to the atrocity committed on a five-year-old that "such things keep happening all the time. They don't just happen in Delhi. They happen in other places too". This is the home minister speaking!
The day P Chidambaram was made home minister, he visited Mumbai which was still burning and apologised for the attack on the city. By doing this, he acknowledged that someone somewhere had failed India and Mumbai. It was acceptance of responsibility, not its denial.
But Shinde comes from a different stock. He belongs to the class that does politics of caste, is contemptuous of professionals and thinks feudally even if he is not personally feudal. He has always contested from Solapur which is a general constituency and not a reserved one, which means that his community, the Dhor (leather workers), vote for him in such large numbers as to outvote the caste combinations of candidates from all other parties.
This is as much a measure of Shinde's popularity as it is a political truth in Maharashtra -- that although the Dalits of Maharashtra have been supporters of the Republican Party of India, middle-class Dalits vote for the Congress and some upper-caste Dalits, even for the Bharatiya Janata Party-Shiv Sena combine.
Therefore, for the Congress, consolidation of the Dalit vote can represent the difference between victory and defeat. This single fact has been behind Shinde's rise in Maharashtra politics.
Shinde is not a novice at administration. He was brought into politics by Sharad Pawar in 1971 via a by-election, after giving up a job in the lower bureaucracy. He became a minister soon after. He's been finance minister (when he consistently referred to a CII delegation that had come to call on him as a CIA delegation) and later the chief minister of Maharashtra.
It was on his watch in 2004 that the Congress won the election, though with significantly fewer numbers. This might have been because during the earlier assembly election, the Congress offered free electricity to farmers and a package to Vidarbha cotton farmers -- both promises that it was unable to keep.
Dalits of Maharashtra were promised reservation in private sector units that had come up on land given by the government. This is yet to be implemented.
Shinde certified himself as a successful power minister: he said in his six-and-a-half years, the ministry saw an additional generation of 80,000 MW -- a "record". India should be forgiven for disagreeing.
The 10th Five-year Plan put generation targets at 41,000 MW and the actual performance was a little over half that. The 11th Plan too has seen serious slippages. Prime Minister Manmohan Singh mentioned power shortage as an area of concern four times in his speeches during Shinde's stewardship.
In the home ministry, you have to look hard to see success. The rape of a young woman in December last year saw the worst anti-government demonstrations.
Before that, people from the Northeast settled in various parts of India suddenly decided to pack up and return to their home states. What caused the exodus were menacing text messages and morphed emails from a set of people whom the home ministry still hasn't been able to track.
Compare this to the Boston bombings where the perpetrators were found in four days. India is still hunting for those who, around the same time, rigged up bombs outside the BJP headquarters in Bangalore, injuring some policemen.
Hours after Ajmal Kasab's hanging, Shinde had appeared on television channels and smugly announced that neither the prime minister nor the UPA chairperson knew of the decision.
"It is my routine work," he said, "my nature is to keep secrecy in such things, I am trained in police."
Perhaps it would be best if the home minister worked from behind the scenes and let others who sound more credible face the TV cameras. Because every time you see him, you get the feeling that with a home minister such as this one, you are less secure -- not more.