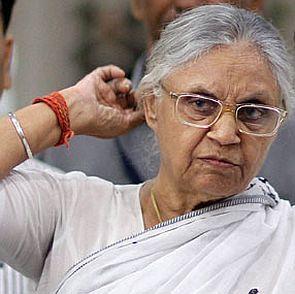 Delhi Chief Minister Sheila Dikshit has declared assets whose value has more than doubled during the past five years, reaching around Rs 2.7 crore.
Harsh Vardhan, the chief ministerial candidate of the Bharatiya Janata Party, along with his wife, has declared assets worth around Rs 2.66 crore including movable and immovable properties.
Dikshit, who filed her nomination today from New Delhi assembly constituency, has come out with movable assets worth Rs 1.8 crore including cash, bank deposits and investments in mutual bonds and shares.
Dikshit's owns an apartment in Nizamuddin East worth around 98 lakh but does not own any vehicle. In her income tax return for 2012-13, she has shown a total income of around 13 lakh.
According to Dikshit's affidavit filed before 2008 assembly election, Dikshit had Rs 1.3 crore in moveable and immoveable properties. She had mentioned Rs 67 lakh in cash and deposits and Rs 63 lakh worth flat in Nizamuddin east.
The affidavit of Vardhan, a four-time member of Legislative Assembly and the former health minister of Delhi who filed his nomination from Krishna Nagar constituency, indicated a decrease in his movable assets (cash, jewellery and deposits) from around Rs 35 lakh to 28 lakh in the past five years.
He owns a Zen Estilo car worth around Rs two lakh and a Toyota Etios Liva worth around Rs 4.6 lakh, which he has added to his list of movable assets, apart from 357.51 gms of gold jewellery worth around Rs 10 lakh, a diamond ring worth around Rs 1 lakh and silver articles of 2.2 kg worth around Rs 91,000.
He has declared his clinical assets worth Rs 10,000 approx. He has liabilities worth around Rs 19 lakh. Under his wife's name, he has declared around Rs 8.8 lakh in cash and deposits and properties worth Rs 1.38 crore approximately.
He has declared properties worth above Rs 1 crore which was at Rs 65 lakh in 2008.
According to his affidavit, three criminal cases are pending against him. In one pending case, charges have been framed while in another the court has taken cognisance. The charge sheet is yet to be filed in the third case.