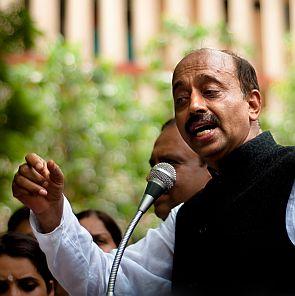 Accusing the Sheila Dikshit-led government of failing to fulfil its promises made in Congress manifestos in the past, Delhi BJP on Sunday said the assurances made by the party were not more than a "bundle of lies."
"We want to show Congress a mirror so that before making promises in this year's manifesto for Delhi polls they ensure accountability of fulfilling them as well. The last three manifestos announced by Congress during past elections were just a bundle of lies," said Delhi BJP President Vijay Goel while addressing a press conference.
Referring to slogan of Congress for Delhi polls, Goel took a dig saying "they have anubhav (experience) in telling lies, scams and corruption and raftaar (speed) in increasing inflation."
The BJP leader added, "Congress has diminished the meaning of manifesto. Big hoardings have been put by Congress with a slogan Rukegi Nahi Meri Dilli (My Delhi won't stop). It is also a lie as no development has taken place in Delhi for so many years," Goel added.
There are at least 21 items in 2003 and 2008 manifestos which were never fulfilled by Congress, he alleged.
"In 2003 Congress talked about getting full statehood for Delhi. For the last nine-and-half years Congress is in power -- both at Delhi and at the Centre, but no steps have been taken to grant full statehood for Delhi. Will Congress repeat this promise once again in upcoming manifesto?" said Goel.
Goel also raised the issue of spiralling power tariff in Delhi and said people are not able to afford electricity in the national capital.
Moreover, in 2003 and 2008, Congress promised to make Delhi a self reliant state in terms of power generation, but the reality is quite different, he said.
The BJP leader said that ruling Congress did nothing for the welfare of media persons.
"In 2003 manifesto, Congress promised residential colony for journalists with soft loan and convenient instalments, but nothing has come out of it yet," said Goel.
Goel said the party will announce its manifesto in the next 10-12 days and make only those promises which it is capable to fulfil.
On the question of resentment among party workers who could not get tickets, Goel said such reaction is natural, but the party is capable of resolving them.

"There are many members who have been working for the party for so many years, when they do not tickets, they get angry which is quite natural. We are capable of handling this kind of circumstances," he said.

Goel said the party will announce the names of candidates on remaining eight seats after Congress comes up with its list.
"We will announce the names of remaining candidates on eight seats after Congress declares its contestants. Those seats are very important to us. We can win those seats with selection of right candidates. We will wait for Congress declaration," said Goel.