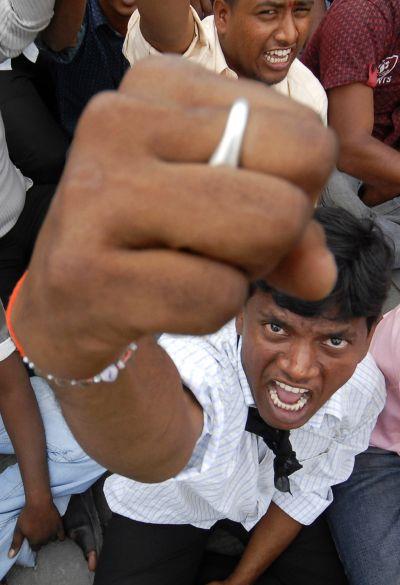 Congress members of Parliament from Seemandhra on Friday hit out at the party leadership for not allowing them to move a resolution at the AICC conclave against the Centre's decision to divide Andhra Pradesh.
"It is undemocratic," party MP L Rajagopal said after the party leadership refused his request to move the unofficial resolution.
"The Congress did not honour my right to raise the matter. I am very sad about it," he said. Rajagopal said three party MPs from Seemandhra including Harsha Kumar and Sabbam Hari raised the banner of protest at the All India Congress Committee conclave against the Centre's decision to bifurcate the state.
"Initially we were denied entry at the AICC meet. They issued us special passes after the media reported the matter," the MP said adding that they used their Lok Sabha passes to get an entry at the venue.
The trio and other Seemandhra MPs -- Vundavalli Aruna Kumar, Rayapati Samba Siva Rao and Sai Pratap -- were denied passes for the AICC meet.
But they were given a special entry by the party leadership after media reported that they would hold a dharna outside the venue over denial of entry to them. Rajagopal said they met party General Secretary in-charge (organisation) Janardhan Dwivedi seeking his permission to move a resolution against the division of the state. But Dwivedi conveyed his helplessness to them.
"In a democratic country, a democratic party such as the Congress should go by the written Constitution which gives opportunity to any member to move an unofficial resolution," Rajagopal said.
In a letter three days ago to Dwivedi, the Vijayawada MP had said, "In the national interest, we oppose further division of states. It is resolved to reverse the July 30, 2013 CWC Resolution of requesting the central government to take steps in accordance with the Constitution of India to form a separate state of Telangana."
The Congress in the state is divided on regional lines as also other parties on the issue of Telangana. Andhra Pradesh is the only major state where Congress is in power on its own for the past 10 years.