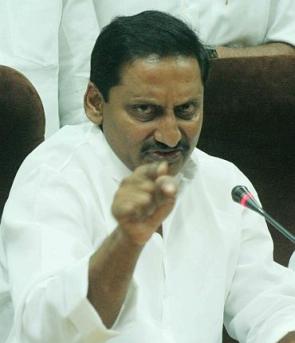 The rebellion against the Congress in Andhra Pradesh is now out in the open. Last week, Chief Minister Kiran Kumar Reddy openly called Prime Minister Manmohan Singh and Congress president Sonia Gandhi deaf and dumb, and on Monday, six members of Parliament have decided to issue notice for a no-confidence motion.
This is just a precursor to what kind of havoc the Seema-Andhra leaders intend to create. The decision by these MPs -- Lagadapati Rajgopal, Rayapati Sambasiva Rao, Sabbam Hari, Undavalli Arun Kumar and SPY Reddy -- is a well-thought out move, and has Kiran Reddy's blessings.
Just after the Cabinet decided that it would form a 10-district Telangana, these MPs met the CM and decided to agitate. They even decided that while the MPs would make all the noise in Parliament to ensure that the bill is not passed.
Sambasiva Rao, one of the MPs who will meet with the speaker and issue the notice for a no-confidence motion, told rediff.com that this was not a knee-jerk reaction aimed at publicity.
"The Congress will be beaten badly in AP following the bifurcation. While Seema-Andhra is a dead issue for the Congress, even Telangana seems highly doubtful for the party. The trends clearly indicate that the people want a change," he said.
Rao says that the people of Seema-Andhra feel cheated.
"We were agitated with the party as we feel that dividing the state is not in the right spirit. It is a political decision which will backfire," he said.
The problems for the Congress will only increase from now in Andhra Pradesh. Many are in talks with YSR Congress chief Jagan Mohan Reddy and Telugu Desam Party supremo Chandrababu Naidu, and are likely to join them once the bill is defeated in the assembly.
Although neither chief minister nor the six MPs clearly spell out if they will walk out of the Congress although their body language indicates so.
Meanwhile, there are hectic discussions on in the state ahead of the assembly session, which begins on December 12. The session is set to be dominated by the Telangana issue. There is a good chance that no other bill will be passed in the assembly, say insiders.