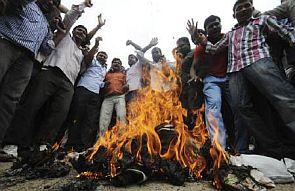 A day-long bandh called by United Andhra supporters, including Telugu Desam Party and YSR Congress, against draft Telangana Bill hit essential services in coastal Andhra and Rayalaseema districts on Friday, inconveniencing several citizens.
Activists of TDP, YSRCP and Andhra Pradesh Non-Gazetted Officers (APNGOs) Association and others held protests since morning at Vijaywada, Eluru, Tirupati and other places in the two regions of Andhra Pradesh.

Schools, colleges, shops and other commercial establishments remained shut at many places in the Seemandhra region and the state-run Andhra Pradesh State Road Transport Corporation services were badly affected.
The bandh was called by the APNGOs, and supported by TDP and YSRCP among others.
Meanwhile, a group of Seemandhra Congress MPs began a fast at IndiraPark in Hyderabad against division of Andhra Pradesh. The MPs sitting on the protest include L Rajagopal, Subbam Hari, G V Harshkumar, among others.
Meanwhile, the winter session of the legislative assembly resumed on Friday and the draft bill was on the agenda of the House.
Members belonging to TDP and YSR Congress surrounded the Speaker's podium holding placards and raising slogans demanding that the Centre drop the move to bifurcate the state.
Speaker Nadendla Manohar rejected the adjournment motions moved by TDP and YSRC on the state division issue and sought to take up Question Hour.
Major Industries Minister J Geeta Reddy read out replies to the first listed question, but the Seemaandhra MLAs continued with their protest.
Amidst the din, the Speaker adjourned the proceedings for half-an-hour within five minutes after the session began at 9 am.