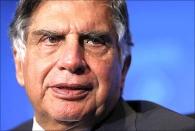 Former Tata Group chairman Ratan Tata on Thursday questioned, in the Supreme Court, the government's motive in tapping telephonic conversations of Niira Radia with top politicians, bureaucrats and businessmen including him, and suggested it might have been done for political purposes.
Appearing before a bench headed by Justice G M Singhvi, Tata's counsel Harish Salve submitted that every public figure including him has a reasonable expectation of privacy and the leakage of his conversation was a violation of his fundamental right to privacy.
"The way the government has conducted itself is questionable. I do not have doubts in my mind. When they were not interested in the probe, then why did they tap the conversation? You tapped 5,000 hours of conversations and sat on it. You did it for some other purpose. Lots of explosive political matters are in it," he said.
He questioned why the government did not take any action on the basis of the tapped conversation, which was allegedly done as part of surveillance of Radia's phone, on a complaint to the finance minister.
"A feeling is inescapable that there were other reasons for tapping the phone but I have no evidence to prove that. It was done in the darkness of the night," he said.
"It is in violation of fundamental rights under Article 21 of the Constitution. No government can say that it is powerless to protect the rights of the people. You have to take action against the person for violation of rights and the Officials Secret Act," he said.