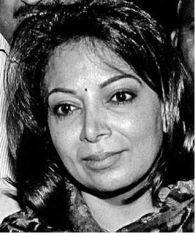 The Supreme Court on Wednesday pulled up government agencies for not taking action on the basis of taped conversations of former corporate lobbyist Niira Radia with top politicians, businessmen and others which show various serious matters like cross-border transactions.
The apex court said that the conversations pertain to multiple issues that were sidelined by the government agencies which entirely focused on those portions that pertained to 2G scam.
On the contents of the conversations, a bench headed by Justice G S Singhvi said that they indicate presence of middlemen in every government department.
"Virtually in every government field, private persons -- you call them liasoning officers or middlemen -- are present in every nook and corner," it said.
The court said that the conversations are much more than 2G issue and not confined only to the telecom sector and contain information about tran-border transactions, somebody taking over a company and other serious issues.
The court was hearing a plea of an NGO Centre for Public Interest Litigation seeking the court's direction to the government to make the conversations public.
The conversations were recorded as part of surveillance of Radia's phone on a complaint to the Finance Minister on November 16, 2007 alleging that within a span of nine years she had built up a business empire worth Rs 300 crore.