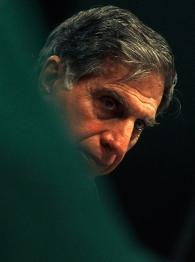 With Ratan Tata watching proceedings, his lawyer on Wednesday pleaded for a direction from the Supreme Court to ensure that conversations tapped by government agencies in the 'Radia tapes' affair are not leaked and misused.
Tata's senior counsel Harish Salve submitted that an independent review committee should be formed to examine the contents of the tapes and take a decision as to whether they have to be preserved or destroyed.
He said the government has been "lackadaisical" in finding out how the tapped telephonic conversations of former corporate lobbyist Niira Radia with top politicians, bureaucrats and businessmen, including Tata himself, were leaked.
Attired in a grey suit, Tata arrived at 11 am in the packed courtroom and witnessed the proceedings for almost two hours, during which Salve stressed before a bench headed by Justice G S Singhvi the
issue of right to privacy.
Later, Tata Sons, in a statement, said, "Ratan Tata has filed this writ petition on a matter of principle. He believes privacy is an important right for every individual and is keenly following the progress of this case."
Salve, appearing before the bench comprising Justice K S Radhakrishnan, said there is need for an independent panel as the committee which reviews intercepted calls is headed by the Cabinet Secretary, who is too busy to look into numerous cases of phone tapping in the country.
"There is a lackadaisical approach on the part of the government in finding out the source of the leakage. It has been carefully designed to exculpate the income tax department and its officials (who tapped the phone). They wanted to give themselves a clean chit and pointed towards the CBI for the leakage," he said.